This article was first published in my column at the Globe and Mail
And the Oscar goes to….
I love movies and always watch the big award galas, which culminated in March with the Academy Awards. I found many of this year's winners to be especially inspiring. Their career breakthrough stories were heartfelt and sent messages of encouragement, hope and possibility. Not just for Hollywood types – but for anyone who has ever struggled in their career.
Coveted Oscars went to actors who had found themselves marginalized, written off or lost despite earlier success.
Perhaps you (or someone you know) has been marginalized because of ageism, racism or some other bias. Or maybe you've been told you just don't have what's needed for a role, even though you know you have the right stuff. Then there are those who once had it all but then lost their footing. Those of more mature ages are more than likely to have experienced something similar.
Four Oscar winners who had been sidelined for a long time expressed shock and gratitude for having another chance. They expressed their thanks from a place of great humility and honesty. And in their speeches they had loads of encouragement to others in any career.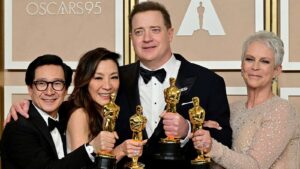 Left to right: Ke Huy Quan, Michelle Yeoh, Brendan Fraser, Jamie Lee Curtis (abc7.com)
Here are a few of the transferable lessons from the 2023 Oscar winners:
It's never too late for a comeback
Brendan Fraser fought back tears as he won his first Oscar for best actor for his role in The Whale. The Canadian-American actor had been a superstar with several lead roles in blockbuster movies, but hit some tough times nearly 20 years ago that derailed his career. It was only recently when he was given a second chance that things turned around.
Lesson: Don't write yourself out of your career script forever because comebacks happen. It may not always happen immediately, easily or in the exact way you envision, but it can happen.
If you are pursuing a dream, surround yourself with people who support you
Ke Huy Quan won best supporting actor for Everything Everywhere All at Once. He was a child actor in Indiana Jones and the Temple of Doom in 1984. But in the decades that followed, opportunities dried up. After a few roles in the 1990s he took a 20-year acting hiatus.
The Oscar wasn't the first triumph over adversity for the onetime refugee.
"My journey started on a boat. I spent a year in a refugee camp. And somehow, I ended up here on Hollywood's biggest stage," he said. After thanking others, he said, "I owe everything to the love of my life, my wife, Echo, who … month after month, year after year, for 20 years told me that one day, one day my time will come. Dreams are something you have to believe in. I almost gave up on mine. To all of you out there, please keep your dreams alive."
Lesson: Pursuing big goals and dreams can be daunting, difficult and at times seem impossible. If you are willing to give it your best, surround yourself with people who believe in you and can help you stay connected to your own passion and self-belief. What would have happened if he'd been with someone who told him to get over it and forget his dreams? This is true for anyone with a heartfelt career goal and passion.
Don't let anyone tell you that you are past your prime
History was made when Malaysian actress Michelle Yeoh accepted the Oscar for best actress for her performance in Everything Everywhere All at Once. She was the first Asian woman to win the award, and already 60 years old.
"As time went by – I turned 60 last year – and I think all of you women understand this: As the days, years, numbers get bigger, the opportunities get smaller as well," Ms. Yeoh said. She almost gave up hope after 40 years of working in movies when this role came along. "And ladies, don't let anybody tell you you are ever past your prime."
Lesson: Even if there is ageism in your world, don't give up or let others tell you it's over. It might take time, effort and some luck, but if you give up, you will never reap the rewards of the seemingly impossible possibility.
You didn't get there alone. The power of 'we'
Everyone gives thanks in award speeches. But the way Jamie Lee Curtis expressed her thanks, one tiny, powerful word stood out: we.
Winners usually thank "my" team (or cast or crew). But Ms. Curtis spoke little of "my" and a lot of "we."
"I know it looks like I am standing up here by myself, but I am not. I am hundreds of people," she said. Calling out her co-stars, she said, "We just won an Oscar." After thanking her family, she added, "To all of the people who have supported the genre movies that I have made for all of these years, the thousands and hundreds of thousands of people, we just won an Oscar together."
Lesson: "I" is not a terrible word but often "we" is much better. Leaders sometimes miss the opportunity to share the wins. Words matter. Leaders can use more "we" in their conversations.
—
Eileen Chadnick, PCC, ACPC of Big Cheese Coaching, is an ICF credentialed executive coach, team coach, workshop facilitator, and writer specializing in career navigation, executive and leadership development, culture-building, and communications. Principal of Big Cheese Coaching  in Toronto, Eileen draws from the disciplines of positivity, emotional intelligence – and Conversational Intelligence®(C‐IQ®) in her work. She is author of the book, Ease: Manage Overwhelm in Times of Crazy Busy. See more at www.bigcheesecoaching.com