This article was first published in my Globe and Mail column.
"Sam" is a high potential, emerging leader. He's doing well on many fronts, but he recently received feedback that he needs to take a more "we-centric" approach. He's been told that he often speaks with an "I-centric" style that might limit his leadership impact and potential for future growth.
Sam represents many leaders I've worked with who have received similar feedback. Often, this is a blind spot for the leader who has good intentions – to be a good leader and facilitate great work. But the gap between their intentions and impact widens when their words and communication style send the wrong message.
Words matter. Even subtle shifts in language can make a big difference. So what does it mean to communicate in a more "we-oriented" way?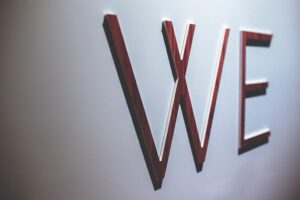 It can mean many things. Here are four red flags (themes) that have cropped up recently in my leadership coaching engagements with thoughts on how to shift to a we-centric stance.
Too much telling, directing – and not enough listening
Some leaders (especially those newer to leadership) lean toward a more directive approach in their managing style. They prescribe, direct, and tell people what and how to do things.
Leaders today need to engage differently. As one leader recently shared, "No one individual has a monopoly on wisdom." A we-centric leader will more often tap into the collective wisdom of their teams and with others where it makes sense. They will invite ideas and give their people more ownership and autonomy where appropriate. While guidance and clarity still matter, the leader will ask more questions and listen more, with genuine intent to hear and to understand.
It might sound like this: "Let's hear your thoughts on this. In your experience, what ideas do you think are worth considering?" Or, "Help me understand your thinking on this. Let's figure this out together."
Using a sink or swim approach without offering the right support
When giving people more autonomy and responsibility, sometimes leaders will take a hands-off approach.
The sink or swim approach sometimes works, but not always. Some people will feel overwhelmed, tested and afraid to ask for help. This can be an isolating experience. A we leader recognizes that they need to strike a balance: give people autonomy but make sure they get the right support that sets them up for success.
Sometimes the leader may not even know what kind of support an individual needs. Maybe it's more clarity, a bit of guidance, assurance – or something else. The leader needs to ask.
It might sound like this: "How about you take a stab at this and let me know if you need anything from me?" Or, "What do you need from me to help you succeed (either in the task, or generally)?"
Some leaders ask that last question regularly as part of their check-ins. Rather than assume they know what the individual needs, they ask. This powerfully exemplifies a partnered (we) collaboration between leader and direct report.
Taking the credit for team success
Some leaders inadvertently send an I-centric message when speaking about their department's work and, notably, the accomplishments. For instance, a leader may say, "I got it done," or, "I'll get my team on it."
There's no malice in these statements. Often the leader has a great deal of pride for their team and trusts the work they do. But they can do better in how they convey their team's success and abilities to others.
For instance, rather than owning the win ("I got it … I will"), there may be instances where the leader can shine the winning spotlight on individual's contributions and give them recognition.
It might sound like this: "John, George, and Nadine worked incredibly hard together and got it done." Or, "The team came together on an excellent work-around that Sue came up with for this tough challenge."
This kind of message signals the leader is raising their people up. It looks good on them – and on the leader, too.
Not enough 'we' within the broader landscape
Leadership does not only begin and end with one's team. One needs to be mindful of their leadership presence with stakeholders beyond their team – for example, peers, interdepartmental and external stakeholders.
For instance, in times of tremendous work pressure, sometimes a leader will be overly focused on protecting their team, say from overload. They may too quickly or bluntly say no to requests outside of their department. (For example: "Can't do it, my people are too busy.")
Without compromising their team's well-being, the leader must find ways to be more supportive and we-oriented with others in their organization. It doesn't mean saying yes to every request. But more thoughtful, solution-oriented responses will go a long way with more positive impact.
It might sound like this: "My team is incredibly busy right now, but I wonder if we can huddle together on this and figure something out. Maybe reprioritize something, or find other ways to help you on this … such as …"
Every word has a ripple effect. With more we-oriented mindsets and conversations, a leader can amplify positive impact for others and themselves.
Eileen Chadnick, PCC, ACPC of Big Cheese Coaching, is an ICF credentialed executive coach, team coach, workshop facilitator, and writer specializing in career navigation, executive and leadership development, culture-building, and communications. Principal of Big Cheese Coaching and Chadnick Communications in Toronto, Eileen draws from the disciplines of positivity, emotional intelligence – and Conversational Intelligence®(C‐IQ®) in her work. She is author of the book, Ease: Manage Overwhelm in Times of Crazy Busy. See more at www.bigcheesecoaching.com