As I am reflecting on my year-end questions and Question #1 is prompting me to think about the good of the year that we are soon to complete. Question #2 is also getting me to think about some of the tough stuff of 2022. You know the the stuff that kinda sucked:(.
We all get the full deal. We get some good. And we can get some bad. That is life.
But what if you can get more good, even from the bad. It doesn't always work that way. Not every bad situation has a silver lining or a grand purpose. But it sometimes it does. And I know that it can be helpful to be aware of any good that comes – especially in the tough situations. It builds resilience. Keeps us hopeful. Helps us heal.
Which brings me to one of my favorite questions: "What's good in this bad?"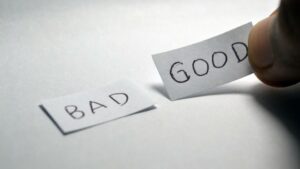 This past summer, I found myself living in this question. I took a bad fall during a pickleball game (yes, I know, pickleball accidents made big news this year). I broke my wrist. According to the surgeon, I broke it really bad.
This sucked. It hurt. And I couldn't do a thing about it. Especially in the early weeks. I couldn't even lift a Kleenex, never mind all the other daily functions we take for granted.
But my instinct to be aware of what was good did kick in quickly.  For instance, despite the bad situation…
I was utterly blessed that my hospital visit on the afternoon of the fall was expedient and I was taken care of so quickly – with a temporary cast. The speed and care seemed especially good given the times we live in with healthcare woes.
Within a day of the break, I got a call from the surgery clinic; was assigned a surgeon and had the surgery literally within two days of my fall.
My surgeon was unbelievably amazing ('good' doesn't even describe him). Not only did he do a great job (yay and phew) he also took the time to phone me when I emailed a question about the  post-surgery protocols. Again, unheard of to get a phone call from a surgeon, eh?
I had an immediate swarm of loving, helpful friends. colleagues, neighbors come to the rescue. They brought food, helped me prep stuff so I could eat without having to use my broken hand. I felt cared for and loved. That has healing power!
Other than some initial rest, I was able to work (remotely) and serve my clients and keep things going.
There's more!
I discovered new ways I could be resourceful. For instance, did you know that your thighs can be fantastic jar openers when you can't use your hands!? Your teeth too, but you have to be more careful with those. Lol…
I made some good decisions with respect to the physiotherapist I chose. My physio was (still is) utterly amazing. I am also thinking I made the smart move (good on me!:) to commit fully to the physio right off the bat even though it meant ubering twice a week (eventually less). AND never missed a day of doing my home exercises — all of which contributed to an accelerated healing — surprising myself, my physio, and even my surgeon.
There's more!
And yes, there is lots more good to share within this 'bad situation'.  My point is that my journey to healing could have really sucked, but I did not focus on that. Instead, I chose to pay attention to what was good (in the bad) the whole way through. I believe (and so does my physio) that this really helped my healing.
At the time of writing this, I am about 3 months past the accident. I am way ahead of the healing markers. Apparently, I still have months to go but I am fairly (I'd say almost fully) functional right now. I am driving again; going to yoga and doing lots of gym stuff; cooking; and typing – lots! I had trouble with this for a while (pain) but now so much better.
This is resilience. 
I'm celebrating my resilience now and I am counting my blessings. Resilience will continue to be the fuel of the future.  We all have it.  I guess the trick is to try to remember to tap into it when we are tested. I hope I'm not tested with something bad again for a while. But at least, as I continue to heal (and I'd say flourish), at least I know I can count on good things even in the bad.
Transferable Lesson?
This is a personal story but the morals of the story are:
Tough stuff is easier to handle when we are open to noticing and receiving the good
Good things come to us — sometimes in surprising ways
Staying hopeful and present is often better than worrying about what may or may not happen in the future (when things can't be known for sure)
Running backwards with a pickle ball paddle and arm outstretched back when I'm very tired is maybe not a great thing for me to make a habit of :).
So how about you? What are you noticing that is good from the year past? AND where can you find more good from the 'not good' moments and experiences of the year behind?
P.S. This year's "12 Questions" article are now posted. You can hop over to this year's version.
They were also published in my Globe and Mail column. See here (if you are a Globe subscriber): 12 career questions to reflect on to set you up for a successful 2023 – The Globe and Mail .
Eileen Chadnick PCC, of Big Cheese Coaching, works with leaders (emerging to experienced), and organizations, on navigating, leading and flourishing in times of flux, opportunity and challenge. She is the author of Ease, Manage Overwhelm in Times of Crazy Busy.