T'is the season to reflect! Ready to dive into this year's "12 Reflection Questions" to complete your year and get ready for the year ahead? The Globe and Mail has previously published a version of this article (click here)  And now you can also scroll down and get access to all the questions here.
—
Message from Eileen: Here we are again.  The end of another year. Just like any other year? No way! Every year is distinct. Even with some familiar themes each year stands out on its own. It is time to take stock. To reflect, recognize, and appreciate the year behind so that you can bid it adieu properly and get ready for the new one just ahead.
This year marks my 11th year of offering this annual tradition of reflecting on 12 Questions! This tradition helps bring perspective on a year that swooshes by in the speed of life. There are new questions this year, and some repeats as well. Since each year is unique, every question – old or new — invites a fresh perspective. 
Let's Go! Get your coffee (or tea or whatever you want) and dig in!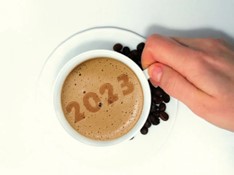 THE YEAR BEHIND…
#1 What went well? 
I know, I know!  You've seen this question every year. It's always at the top of the list. But come on – since your year was distinct, this same question should generate some new reflections. If you've had a good year, this may come easy to you. But if you've had a tougher year, then this question will be especially important to spend some time with. Our brains hold on to the negative and tend to forget the positive. Take time with this question to bring to light any and all good in the year past. Notice a positive shift in energy? Perhaps a new perspective on your year? The next questions will further amplify this for you.
#2 Where was the good in the bad?
Okay, now you can let it rip. Spill the beans on all the tough stuff that just sucked this past year. Then step back and ask: What was good in the bad?
Maybe not everything has an immediate silver lining or even reveal a grand purpose. But many tough situations do embed some positive rewards. Opportunities for learning and growth? An enhanced appreciation for something or someone? I had a 'bad thing' happen this summer when I broke my wrist in a clumsy pickleball moment. Despite the bad, I fully took in all the good that came with this tough situation. It helped me heal more quickly and I'm grateful for all of it. You can read more here. 
#3 What bolstered your resilience this year? 
A year ago, I was writing about how resilience would be crucial in the year ahead. It was and still is.
These past years have challenged our nervous systems, individually and collectively. More than ever we need resiliency skills. How did you keep your energy and 'mojo' tank fueled up? What worked well for you?
#4 What positive surprises did the past year bring you? 
We don't always know what is around the corner. It is not always bad. Think of something positive that came unexpectedly for you this past year. Use this as a reminder that good can come even when we can't see or anticipate it. It can be helpful to remember this in tough times.
#5 Whose lives (work and personal) did you positively impact this year?
I bet you were generous in more ways than you realize. As a leader or contributor at work? A difference-maker in your community? A loving family member and/or friend? A generous supporter of people in need whom you've never met? We often forget the positive impacts we have on others. Remembering this can spark a good feeling and fuel us forward for even more generosity in the year ahead. And leaders, did you know that often, the giver of good (such as expressing appreciation), gets as much reward as the receiver?
#6 Give your year past a personal theme. Complete this sentence: "2022 was the year of ____"
THE YEAR AHEAD…
#7 What would make 2023 a good (or great) year for you?
World peace or solving the inflation crisis aside, consider various aspects of your life. Career? Personal wellbeing? Family? Social? Other? What surfaces as high priorities that you can have agency to act on?
Perhaps create some meaningful goals from this? Forget resolutions, but good, thoughtful goals can be fuelling and give more meaning to our lives.
#8 With the pace of today's hustle culture, how will you create ease and balance?
Tired from the go-go-go busyness of work and life? The merry go-round won't stop. So you will have to find ways to get off now and again to replenish, restore and refuel your energy. What can you do? Even tiny commitments and strategies can have an impact and help you mitigate feeling overwhelmed and the fatigue that comes with the relentless "crazy busy" pace of work and life.
#9 How will you more meaningfully connect with others?
Connection has been severely challenged these past years with the work-from-home and hybrid models. Staying home offers safety and convenience but there are costs. How can you more intentionally create more connection at work? Elsewhere? What do you need to let go of to connect more authentically, frequently, and meaningfully?
#10 Where and with whom will you be more generous this year?
While financial giving is one outlet for generosity there are other ways to give. Where can you be more generous with your time, attention and even your assumptions of others? Who can you lift up? And leaders – how about giving more appreciative feedback to others.
#11 How will you be more compassionate and generous with yourself?
Are you generous with others, but hard on yourself? Where can you soften your self talk? Right-size your impossible high standards? Will this be the year to tame your inner critics and tune in to your voice of self trust?
#12 Give yourself a personal mantra or a theme for the year ahead. Complete this sentence: For me, 2023 will be the year of ___________
Eileen Chadnick, PCC, ACPC of Big Cheese Coaching, is an ICF credentialed executive coach, team coach, workshop facilitator, and writer specializing in career navigation, executive and leadership development, culture-building, and communications. Principal of Big Cheese Coaching and Chadnick Communications in Toronto, Eileen draws from the disciplines of positivity, emotional intelligence – and Conversational Intelligence®(C‐IQ®) in her work. She is author of the book, Ease: Manage Overwhelm in Times of Crazy Busy. See more at www.bigcheesecoaching.com