***Want to see the video version of this blog article? See it here!***
As a leader, how would you handle this situation?
A manager writes to the Globe and Mail's Career "nine to five" column: A direct report frequently displays strong emotions in the workplace. Notably, they frequently tear-up; are seen crying in the hallway. In discussion with this employee, we both agree that the employee is overwhelmed, lacking self-confidence, and just having a tough time managing emotions.
The manager wrote further and said she/he  didn't know how to support this employee.
What would you do? What do you see as your responsibility as a leader to support the employee through this?
I was invited to respond to this question as a frequent contributor to the Globe and Mail's Career and Leadership Lab series. It's a great question but the platform allowed for only 250 words in response. Egad – this is a big topic! But I gave it a go and provided as best as I can some food for thought. You can read the original question and my answer in the Globe and Mail here (it may only be available to subscribers but read on for an expanded version of my answer)
But I wanted to expand further on the topic of OVERWHELM. More specifically, within the context of a leader's role and responsibility — and the skills need.
Read on for more.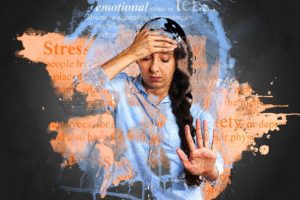 (Photo from Pixabay)
Overwhelm at Work:
In today's "VUCA" world where volatility, uncertainty, chaos, and ambiguity are the new normal there are increasingly more people experiencing emotional distress trying to navigate the stress and loads associated with work (and life). Add into the mix the accelerating pace and continuous nature of change and disruption and you have the potential for a first-class ticket to overwhelm.
Sometimes overwhelm is seemingly invisible.  What I mean by that is sometimes one isn't aware in the moment that they are in the grips of overwhelm. And when others (leaders, colleagues) observe behaviours that may seem 'off', they may not recognize that overwhelm is at play.
More often, what presents are the ripple effects of overwhelm. Perhaps, a display of high emotional reactivity (e.g. as in the story, tearing up); or perhaps, some sharp words with others; other communications blunders; diminished thinking ability; and decreased productivity; maybe disengagement. And of course so many more examples.
No one is immune from overwhelm, now and again. It is a very human experience — especially in the times we live in. The last thing a leader or anyone should do is stigmatize it. It happens to the best of us. In fact, I'm right in there with many and like to say that I wrote the book on Overwhelm (because literally, I did – see it here). Over time, I have learned and honed many habits and skills to help me mitigate and/or deal with times of overload and feelings of overwhelm. And I've since helped hundreds of others deal more effectively with overwhelm.
Whose responsibility is it to manage overwhelm? Well everyone's actually. If you think that this isn't your job as a leader – think again and think twice before you assume it's someone else's entirely. The writer of this Globe and Mail question said that given the small size of the organization they didn't have any HR or wellness professional support the employee internally. She didn't know what else to do.
There ARE many things a leader can do to support an overwhelmed employee. Here are just a few ideas.
Be compassionate and curious. Ask questions to discover together what the source of overwhelm is for this individual. With understanding, that gives you both clarity and options to mutually work out a way forward — i.e. if it's a workload issue or an expectation that can be managed, you can collaborate and address together. If other resources and support are needed,  you can make better decisions on this path too.
Provide guidance on skills that can help them get better organized; prioritize; set goals. Overload and a feeling of chaos can create havoc on our brains and emotions.  Small changes can make enormous differences. Even tiny acts related to prioritizing and writing things down can help.
Foster a safe culture where people who feel overwhelmed can speak up and ask for help.  Again, be mindful not to stigmatize this. Remember it is part of the human experience. Be approachable. Be a human leader.
Know your own limits and boundaries and be prepared to enlist or refer to further support. Being a supportive leader doesn't mean you have to do IT ALL. Start the conversation and recognize when additional support can help be it a qualified coach or other professionals.
Are you developing your own leadership skills to have these kinds of conversations?
Having conversations around overwhelm (and many other related issues within the sphere of people development)  calls for a specific skillset. Increasingly leaders need to develop skills that are above and beyond the technical and business leadership skills. The human leader needs to engage with empathy, open-mindedness, curiosity, compassion, collaboration, generosity, and a whole bunch more.
Leaders who learn how to be more 'coach-like' in their mindset and conversational approaches have greater potential to enroll, engage, grow healthy and more productive teams than those who are more autocratic, or 'hands-off' (other than project focused conversations).
Be on alert for episodes of overwhelm in your people. Park judgment when you see what could be 'ripple effect' behaviour and get curious and ready to reflect and ask some questions.
Start by wondering more and asking some reflective questions such as:
What's my responsibility as a leader to support this person in this moment? How do I show up with compassion and curiosity to understand the situation better? What can I do and/or encourage them to do that would help them grow, learn, and develop new skills when they feel challenged and overwhelmed? What skills will help them flourish?
And as importantly, do remember that leaders are not immune from overwhelm either. So ask yourself:
 How am I managing my own overwhelm moments? Am I aware when this occurs? Do I have the right strategies and support systems for myself when I need it?
What's most important is this:
Human leaders build humane workplaces which can foster more engagement, productivity, collaboration — and ultimately healthier workplaces and communities.
Are you ready to lead in times of overwhelm? Want to learn more? 
#1 Get first dibs on an exclusive membership that's coming soon! 
The Accelerator for Leadership, Learning, Life! It's coming soon….you'll want to hear about it when doors open (I will open the doors for a time-limited period in my initial launch). 
#2 Get some tips from my book: Ease Manage Overwhelm in Times of Crazy Busy 
#3 Get some "Leader-as-Coach" training. If you are interested in learning some coaching skills, check out the Business Program Advantage program. Their programs are tailored for coaching in a business context and they also provide  'leader-as-coach' training. DISCLAIMER: I'm positively biased on this reco. I am involved with this organization — but I do not receive any renumeration for referrals. It's a stellar program.
#4 See the Video version of this blog post here! 
Comments and questions welcome!
Here's to Leadership, Learning, Life!
Eileen Chadnick, PCC, ABC is principal of Big Cheese Coaching and an award-winning coach and communications professional in Toronto. She specializes in career management, leadership development, and communications. She works with leaders (aspiring to experienced) and organizations to foster personal, professional, and organizational wellbeing. She draws from the disciplines of emotional intelligence, Conversational Intelligence®, and neuroscience. Author of the book, Ease: Manage Overwhelm in Times of Crazy Busy, Eileen is also a contributing leadership and careers columnist with the Globe and Mail. Join her in conversations about leadership, learning, life!