NOTE: This article was originally written in the fall some time ago. But it's relevant for any time when life is crazy busy….and especially when going back to work after some time off.
—
5 Prioritizing Habits to Get You "September Ready" (with the "UNpriority List")
Now also published on the Huffington Post.
September is here. Thud!!!!@#@
Thud is right. Did you feel that? Yeah, it's here and like it does every year, September is making is presence very known. One minute we are enjoying the lightness ("of being" in summer) and the next moment we're facing that 'back to work/school/busy days' tsunami of stuff to do. Overwhelmed yet?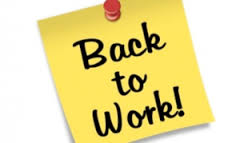 Of course I'm being a bit dramatic and I do love much about September but it sure does have a way of demanding so much more from us. All the projects and 'things to do' that were appearing far away just a Nano moment ago are suddenly here – all at once! Do you feel a bit like that?
Like it or not the busy season has arrived and it's time to hunker down – and prioritize! As I wrote in Tool #3 in my book, Ease: Manage Overwhelm in Times of 'Crazy Busy' –> prioritizing is not a habit – it's a repertoire of many habits. It's not something we do once in a while or even once a day. It's something we live in – fluidly. Things change. Curveballs arrive. The best laid plans get turned over. You know – it happens all the time. Time to flex that prioritizing muscle…
Here are 5 Prioritizing Habits to Get You "September-Ready":
#1) Always ask yourself prioritizing questions. We all know the concept of prioritizing (duh!) but when overwhelmed our higher thinking brains can gear down causing us to freeze or feel stuck in the moment and we often forget to do it. Best thing to do is to reach for that simple yet powerful question:
What's the priority?
I know. Super simple eh? If you can get in the habit of asking this question (and more like it) when confronted with overwhelming loads and surprise changes, you'll do much better.
Here are just a few more questions that can help:
What is most important right now? What's the priority based on timelines / on strategic need / on what I know really matters /on what I've said I committed to? What's the benefit of making this a priority for now? What can wait and be rescheduled? If I don't do this (now) what will happen – what's the risk and impact? What CAN I do now if I can't do it all? What small part will make a big difference? What can/should I say no to or 'no, not now'? And so on….many, many more. Note: on the last Q – see tip #5 on the UNpriority List.
#2) Create prioritizing rituals to focus your day, week, month(s).
While living in the prioritizing habit is ongoing and fluid (as per the tip above), creating rituals to ensure you plan priorities for your day, week, month – and more can keep you focused and intentional in your work (and life).
Prioritizing rituals give me a compass that keeps me on track and helps me stay sane — offering me a feeling of being somewhat in control of a busy load. For each month I write out my starting priorities for that month. Notice the word starting – to acknowledge that things change and to allow for that. I do the same for the week; and the same on a daily basis – every single day. A day, week or month never goes by without a starting list. And while the priorities certainly evolve over time, it gives me great peace of mind knowing I have a road map to begin with and the things that are most important don't get lost in the shuffle.
Make this a ritual to get in the habit of doing it. Choose a time/day/place/mode that works for you. The key is to do it regularly and make a habit of it. You'll be grateful for this as you navigate the crazier, busier times.
#3) Write them down.
Don't keep your priorities in your head. Write them down. Having a written record of what you deem most important (work and life) gives you a better chance of attending to it and keeping it 'top of mind'. When loads are hefty, too much in your head can trigger that stress and overwhelm response. When those 'best laid plans' go off the rails a written record of your intentions will have a better chance of surviving – and give you a landing place after you've dealt with incoming, unexpected curveballs. See my article "Are You Writing it Down?"
#4) Prioritize strategically and for meaning.
Avoid the pitfall of making your priorities only about task lists. Your lists become a place to dump all the 'busy to-do's which can sometimes be meaning-less 'filler'. It's important to develop the habit of prioritizing strategically and for meaning. As you think about your priorities, discern arduously. Challenge your priority list and take a hard look at what you are saying yes to (and what you need to say no to. See #5 for the UNpriority list for more on this).
Are your stated priorities truly supporting the important work and goals you said you are committing to. Are you including the stuff that engages and inspires you? Or are you bogging your days down with only the smaller, 'busy' stuff.
And the best for last (I think)….

#5) Too many priorities? Try an UNpriority list.
Some of us (ahem, ahem…who me?!) sometimes find ourselves struggling with too many priorities competing for attention. This is where practising the UNpriority list can be helpful.
Right-sizing our commitments (to self and others) within the reality of what can be achieved in any given time frame and honouring what is truly important is a skillset in itself. This often takes practice. Part of that practice involves learning to say no; managing expectations (yours and others); challenging your own standards (are they too high for what's really needed) – and more. To assist with this and create some discipline consider writing out an "UnPriority List". Declaring what needs NOT be a priority can be immensely helpful and lift a significant weight off your shoulders.
So as you step into the busy weeks of fall, ask: What are your best practices for prioritizing during busy times? What will you try differently this September to get a grip on the busy season? What can you put on your UNpriority list?
 For more tips on how to handle 'crazy busy' times see Eileen's book: Ease – Manage Overwhelm in Times of 'Crazy Busy'.