Feeling the winter blahs? Lost sight of those shiny goals from the new year? Losing 'steam'?
In my last post ("Ahh February"), I shared a story about how my father taught me some valuable life lessons – notably, the importance of pacing. The context was related to long-distance running but the lessons were valuable for life and work. A year is 12 months. It's far too long to sprint….
In long distance running, if you start out too fast, you can 'hit the wall' too soon and miss the mark on your goal — or have to quit the run all together.  If you do manage your way through, you might find the journey much harder than it need be. This metaphor is important to keep in mind in the early months of our new year.  If you feel you are hitting a wall – aka: February blahs, a few good habits might help you refocus and get your 'mojo' and 'run' back on in these early months of the new year.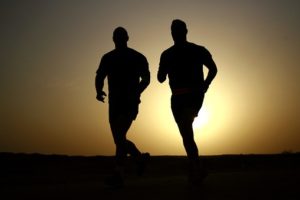 A few good habits – inspired by my father's lessons on how to pace yourself for the long 'runs'.  A great metaphor for work and life. A year is 12 months long. See earlier post with the full story with a pic my father and I running together in my first marathon when I was only a wee 15. 
A Few Good Habits:
1) Learn to Pace Yourself: 
It takes discipline and self awareness to set the right pace for yourself and for your team. Those that do it well, fare better in the longer term. Check in with yourself to ask if you are constantly in sprint mode – to a point of constant depletion? Going too slow to a state of apathy – maybe leaving too much 'on the table'? Or doing your best to find your balance with the right pace?
On the latter point, – it can be tough to find and maintain a consistent balance but the mastery is not in managing the pace perfectly all the time. The mastery is staying in the process of noticing, adjusting, and learning to be responsible for what you can control. This means saying no to stuff; to managing your own inner critic that doesn't let you rest; to recognizing when slowing down will be better for you and others (including your team). It also means knowing that we need to vary the pace of our work and lives. Sometimes we'll go at it real fast and hard. But know when to ease back. For leaders – be compassionate, aware, and responsible with your team. Are you the cause or support of healthy balance?
2) Take Rest and Recovery More Seriously:
This was a question in my 12 Qs year-end article but worth highlighting again. In sports (competitive or recreational), recovery is often the defining factor in great performances. Same for life. Are you taking this seriously? There are many ways to rest and recover – and likely an updated article to come on this. But key message here: take it seriously. Disclosure: I am taking it seriously but I could do better in execution!
3) Find yourself some good mentors, coaches, teacher and support systems for your goals: 
We all do better when we have support. Teachers, guides, inspirations come in many forms. Sometimes they are invited explicitly (i.e. hiring a coach, taking a course, etc.). Other times they simply just show up and may bring a 'teachable' moment to you via a conversation where they say something that helps you some way: inspires new thinking; gives you clarity; offers new possibilities, and more. Leaders: do your direct reports consider you one of their 'good teachers/mentors/coaches'? Do you actively seek support for yourself?
Read: Who will your teachers be in the months/year ahead?
4) Practise Being Mindful By Setting Daily Intentions:
Every year, I encourage people to set a mantra or theme for their year ahead. I found mine mid January (it's about "Space and Possibility"). But lately I've been setting daily intentions too. These aren't 'to do's; rather they are intentions related to presence and state of mind. Some will be related to my year's theme. But sometimes they will be unique to the needs of the day/week. For instance, it might be a reminder to stand in gratitude, or to practise patience. Or to go with the flow vs. resisting the challenges at hand. I am finding this practice very helpful to ground me as I set up my day. I write these out with some micro journaling as part of my daily habit before I dive into work. For leaders – setting intentions will make for a much more effective, resonant leader!
) Develop the Habit of Purposeful Reflection – all year long:
My article with  12 Questions to Complete the Year and Start Anew got tons of traction with thousands of views these past two months (It was also published at the Globe and Mail). But these questions should be asked not just at the end of the year or beginning — but rather each mile along the way.
Asking yourself powerful, thought-provoking questions can help focus and energize you for whatever is ahead. Great for ending and beginning — not just a year but also weeks, days, months, and projects.
I invite you to revisit these questions regularly. For leaders, you can bring a few of those questions to your team. Such as: What went well? What do you/we need to learn? See the 12 Qs here for some ideas!
Other Habits? There are so many good habits. I encourage you to find yours. The key is to make them a 'habit' by creating a ritual. Do them over and over again. Ad hoc doesn't really work.
Try it out – you, your team, and your year will thank you for it!
P.S. If you want to see a photo of me and my father running together in my first marathon when I was a wee age of 15, click on "Ahh February, Part I".My father had completed his marathon that day: showered, changed, and came back for me!!
Eileen Chadnick (@Chadnick) is a certified coach specializing in career, executive and leadership development and a communications pro (20+ years of experience). Principal of Big Cheese Coaching and Chadnick Communications in Toronto, Eileen draws from the disciplines of positivity, neuroscience, emotional intelligence – and Conversational Intelligence®(C‐IQ®) in her work as a coach, consultant, trusted advisor, and facilitator. In addition to authoring the book, Ease: Manage Overwhelm in Times of Crazy Busy, Eileen is also a contributing leadership and careers columnist with the Globe and Mail.