Update (July 25): I got together with Anne Marie Madziak recently for a zoom coffee chat. We had a chance to share a little more about the "Coach Approach" program that garnered OLS and me a Prism Award. You can tune in here. But get yourself a coffee/tea first:) The press release follows just below as well. 
VIDEO: "Conversation with Eileen Chadnick and Anne Marie Madziak – The Coach Approach Prism Award-winning Program."
—
Just off the cusp of writing about the career-boosting inspiration from this year's Oscar awards, it looks like I've got something to celebrate too. I won an award! Even better, I won it with one of my lovely clients whom I've had the ultimate pleasure of working with on a very gratifying two-year (plus) initiative. Read on!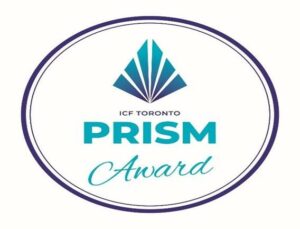 Breaking news! 
(News Release) — Leadership "Coach Approach" Wins ICF Prism Award: Ontario Library Service and Eileen Chadnick/Big Cheese Coaching Honoured Together with Tribute of Excellence
The Ontario Library Service (OLS) with Eileen Chadnick, PCC, of Big Cheese Coaching have been announced as winners of the annual ICF Toronto Prism Awards, in recognition of a two-year "Coach Approach" leadership development program serving the Ontario public library sector.  
Winners were announced by the GTA International Coach Federation (ICF GTA) on March 31, 2023. The Prism award, now in its 23rd year, celebrates excellence in organizational and leadership coaching. OLS partnered with Chadnick to integrate coaching skills training into its existing library leadership development program, "APLL" (Advancing Public Library Leadership Institute).
Championed by Anne Marie Madziak (recently retired), the former APLL lead, and OLS executive recognized the potential to bring coaching skills into the Institute's leadership development curriculum.  Designed and facilitated by Eileen Chadnick (Big Cheese Coaching), the multi-modality "Coach Approach" program was delivered with a hybrid of live workshops (virtual and in-person), videos with online discussion, peer practice, reflective assignments, and a plethora of resources.
41 emerging and aspiring leaders participated in the 2021-2022 cohort, representing 32 public libraries in Ontario. Focused on coaching in the library leadership context, the training highlighted the coaching mindset, and various coaching skills and approaches to amplify potential for collaboration, engagement, and capacity-building.
The participating library leaders conveyed significant learning and appreciation for the coach approach. Evaluation surveys revealed: 80 per cent said the coaching training was important to their development as a leader; 80 per cent were practising the skills; 78% said they have grown in their coaching mindset and abilities because of the Coach Approach.
Anne Marie Madziak (program champion) said she saw enormous synergy in the coach approach with the organization's mandate: "The focus on coaching is well aligned with many of the Institute's nine leadership practices, including developing individuals, embracing strategic change, reaching for exemplary service, and creating a learning environment. The Coach Approach initiative, with its sharp focus on practical coaching skills and a coaching mindset, is aligned with the learning objectives of the Institute, resulting in many current and future important coaching conversations across Ontario's public library sector."
This is the second Prism award for Eileen Chadnick, who said: "It is an extraordinary honour to receive an ICF Prism award. Working with OLS and seeing the transformation amongst the 41 leaders was even more gratifying – seeing the leaders develop new coaching skills and approaches to inspire, empower, and catalyze potential with their people in their respective libraries and communities."
OLS CEO and incoming APLL co-facilitator, Mellissa D'Onofrio-Jones said: "The Coach Approach had a demonstrably positive impact on aspiring leaders in the 2022 cohort. Our aim is to provide leaders at every level in the public library sector with tangible tools for having people-centred conversations that develop not only staff but a positive work culture where psychological safety is valued.  Coaching skills will continue to be a significant part of the 2023-2024 curriculum."
Lead ICF Award Judge, Lucy Shenouda, said, "Your delivery of a diverse and comprehensive program in meeting the needs of different types of learners and honouring the ICF competencies is an outstanding achievement." 
OLS and Eileen Chadnick will be formally celebrated at an ICF Prism Awards Gala in June.
ABOUT:
GTA ICF Prism Awards: The Prism Awards recognizes excellence in coaching. It honours organizations and the coaches that have implemented coaching programs that exemplify how professional coaching can maximize individual potential, shape the culture of an organization, and address key strategic goals that directly contribute to bottom line benefits.
The Prism award was created in 2000 by the GTA ICF chapter. The award program model was then adopted by ICF Global in 2005. See ICF-Toronto Chapter – Awards 2023 (icftoronto.com) for more information about this year's Prism winners.
OLS: Ontario Library Service (OLS) is mandated on behalf of the Ontario Minister of Tourism, Culture and Sport to provide services and supports to Ontario's Public Libraries to empower them to meet the needs of their unique communities.  Website: https://www.olservice.ca/
APLL: Advancing Public Library Leadership Institute (APLL) is a two-year program, offered by OLS, designed to expand and advance the leadership capacity of Ontario public library CEOs, managers, and aspiring leaders. Initially launched in 2008, APLL evolves with every cycle, adapting to current issues and changes in the landscape of Ontario public libraries.   
Eileen Chadnick/Big Cheese Coaching: Eileen Chadnick (PCC) is principal of Big Cheese Coaching. She is a long-time ICF-credentialed coach; a member of ICF since 2004; a past GTA ICF Board member; and a previous Prism award winner (2007). She works with leaders (emerging to experienced), and organizations, on navigating, leading, and flourishing in times of flux, opportunity and challenge. She is also a faculty member of the Business Coaching Advantage Program. Eileen is author of Ease: Manage Overwhelm in Times of Crazy Busy. Also, a long-time career columnist with the Globe and Mail, and author of the book, Ease: Manage Overwhelm in Times of 'Crazy Busy'.  See more at www.Bigcheesecoaching.com
– 30-
Contact Eileen Chadnick for more information (eileen@bigcheesecoaching.com)