This has been an exciting time for me and my client, the Ontario Library Service (OLS). Earlier this spring we were announced as winners of the 2022 GTA International Coach Federation (ICF) Prism Award! Then a bit later in June we were feted and celebrated with the other fabulous winners at a gala event at the Weston Harbour Castle hotel.
The Prism award is a very prestigious honour that recognizes organizations and coaches who exemplify stellar commitment to bringing coaching skills into the workplace. This is my second Prism win and it feels as exciting as the first, which I won in my earlier days of coaching (2007).
Anne Marie Madziak, former OLS executive and recently retired, joined me at the podium to accept our award. We were also part of a Panel discussion to share a bit more about the program. Anne Marie was the champion behind bringing coaching skills into the library leadership training curriculum. I was invited to design and facilitate the Coach Approach program which was integrated into the OLS APLL program (Advancing Public Library Leadership Institute).
With limited time on stage we shared a tiny bit about the program and our collaboration. To dig in a little bit more for those interested in hearing further detail, we recently got together for a deeper dive via a virtual 'Coach Café' chat. You can tune in to that conversation here if you like:

You can also click on the photo (screenshot) to access the video as well.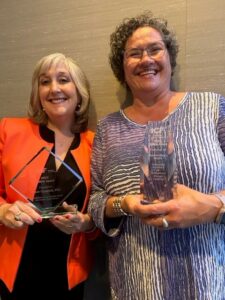 Anne Marie Madziak and Eileen Chadnick receiving the ICF Prism award formally presented on June 14th at the Gala. Anne Marie was the lead on the APLL program and championed the idea of bringing more coaching skills training into the curriculum.
Eileen Chadnick, PCC, of Big Cheese Coaching collaborated with OLS to design and facilitate the two-year program, in which 41 emerging and aspiring leaders from 32 public libraries in Ontario participated.
If You Want to Be a Great Leader, Make Sure You Learn How to Coach!
Well, this was certainly a core message and a big part of the 'why' of bringing coaching skills to the library leadership learning. But it also made it as a headline!
As a columnist at the Globe and Mail (careers section), I had an opportunity to write about coaching trends and also highlighted a few of the findings from a recent ICF Global Study.
One of the trends I spoke about was the proliferation of leaders learning to coach. OLS is one of many examples of organizations who bring coach training to their people, either internally, or source it elsewhere. In OLS's case, they made space for The Coach Approach training in their bi-annual two year APLL program which brought together 41 Ontario Public Sector library leaders representing 32 public libraries. They are working on building leadership and coaching capacity within a sector!
You can read the Globe and Mail article here: If you want to be a better leader, learn how to coach. It is only available for subscribers. Check back on my blog soon when I will be able to post the full article.
And the good news continues! Just one week prior to accepting our Prism award at the ICF gala, we completed the first intensive for the next APLL cohort (2023/2024). Indeed, lots of leadership acumen and learning abound — including the early lessons of the Coach Approach. It was a strong start with a fabulous group of 30-something up and coming Ontario Library leaders.
With Anne Marie retired, she has passed the APLL torch along to Mellissa D'Onofrio Jones (OLS CEO) and Lee Puddaphat (OLS Training and Events professional). And as for me, I'm delighted to be leading the charge on the next round of The Coach Approach. I have a hunch you'll be hearing more about it in the coming months (why not share the learning, eh?!).
Here's a snapshot of me, Mellissa, and Lee at the Prism award gala.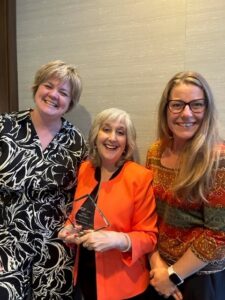 From left to right: Mellissa D'Onofrio Jones, CEO of Ontario Library Service/OLS; Eileen Chadnick, PCC, Big Cheese Coaching; Lee Puddaphat, OLS Training and Events professional. 
Photo taken at the Prism Award Gala event at the Westin Castle Hotel. 
We are smiling because of both the award celebration AND coming off a great first intensive week for the next APLL cohort! 
Curious to learn more about training a leadership cohort on coaching skills?
There's lots more to share. If you have a leadership cohort (emerging to experienced) that you are curious about teaching some coaching skills, get in touch. I'd be happy to connect.
—
Eileen Chadnick (PCC) is principal of Big Cheese Coaching. She is a long-time ICF-credentialed coach; a member of ICF since 2004; a past GTA ICF Board member; and a previous Prism award winner (2007). She works with leaders (emerging to experienced), and organizations, on navigating, leading, and flourishing in times of flux, opportunity and challenge. She is also a faculty member of the Business Coaching Advantage Program. Eileen is author of Ease: Manage Overwhelm in Times of Crazy Busy. Also, a long-time career columnist with the Globe and Mail, and author of the book, Ease: Manage Overwhelm in Times of 'Crazy Busy'.  See more at www.Bigcheesecoaching.com