A version of this article was first published at the Globe and Mail Careers section. See my Globe columns here.
And a VIDEO: Bad Boss? Learn to Manage Up!
Having a tough time adjusting to a new boss? Too much micromanaging? Not getting enough guidance? Feeling invisible and wondering if they just don't like you? Questioning if they do not trust you to do the job well?
Getting a new boss can sometimes be laden with bumpy moments and tough transitions. Sometimes – if not resolved – it can lead to significant stress and even career remorse.
But rather than writing off the potential for this new relationship or waiting for your boss to miraculously get their act together, there are things one can do to shore up the relationship.
I wrote an article for my Globe and Mail Careers Column offering some perspective and tips that might be helpful. If you are a subscriber, you can see the original article here. If not, just scroll down for the full text.  
—
I have worked with many clients over the years who have experienced frustration and stress when getting a new manager who was different from their previous one. Some common complaints include too much micromanaging, not enough contact and direction and vague feedback. Sometimes it's just a case of getting used to a new dynamic, but if not resolved, this can lead to significant stress and career turmoil.
This is where one key skill that often gets missed can make a significant difference: Learn to manage up.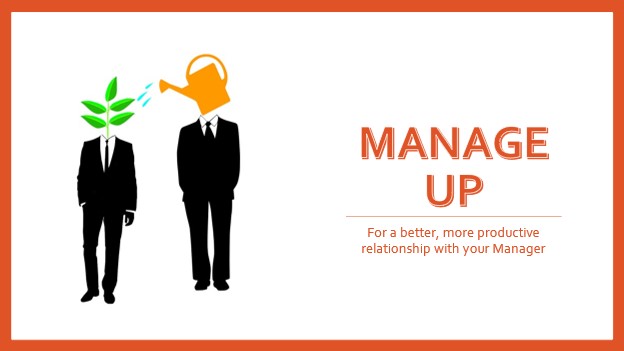 Managing up is not about fixing a boss's behaviour or overstepping them. Rather, the intent is to initiate ways that can create a healthier, more productive work dynamic with the person you report to.
For instance, "Joe," an experienced leader, was frustrated because his new director appeared to not trust him. I asked Joe how he came to that conclusion. He said because his boss micro-manages him and wants to know so much more detail than any of his previous bosses. Joe felt disrespected given his lengthy and successful tenure in the role. I invited Joe to wonder out loud what else might be the reasons for his boss to ask for such detail. In other words, assume less, and be open to other possibilities.
Another client ("Misha") was unsure of what her new boss expected from her. Guidance and communications were sparse. She had to constantly guess her way forward. She did her best with her good instincts, but still wondered if she was in alignment with what her boss wanted. Her thoughts spiraled further as she feared her boss simply did not like her because he didn't give her the time of day. I asked Misha similar questions as Joe and if she had the courage to have an authentic conversation with her boss.
In the void of silence, people often make stuff up to make sense of confusing situations. Assumptions like "my boss doesn't trust me," or "doesn't like me" can feel true in those moments of uncertainty and uncomfortable territory with a new boss.
If I was coaching their leader, I'd encourage them to connect more and ensure clarity and communications flowed more productively. But I wasn't coaching their bosses. I was coaching them.
They had an opportunity and responsibility to try to remedy the situation by managing up. And the sooner the better.
Where to start? The first step is to check in on your own perspective and make sure you are not operating from limiting beliefs or untested assumptions (such as "my boss dislikes me"). Rather, widen your perspective with more generous assumptions (at least to start), and personal responsibility.
Explore questions that include: What assumptions am I holding that need to be tested? Why else might they be acting in this way? How can I take responsibility for getting this relationship on track? What do I need to convey to them about my needs to do my best work? What are their needs and how can I pivot or adapt to be helpful to them? How can we work together to ensure more clarity and to build a better working relationship?
As for Joe, it turned out that trust was not an issue. His new leader simply had a different style and liked to be in the loop on certain projects and issues. In Misha's situation, she discovered that her leader was under immense pressure in his new role and personal life. His not showing up at his best as her leader had nothing to do with her.
In both cases, they approached their leaders and engaged them in conversations. Their leaders were appreciative and receptive to their requests.
Anyone who finds themselves disconnected in some way to the person they report to needs to find productive ways to navigate forward. Here are some tips.
Stop and starts:
Stop making hard assumptions or personalizing reasons for your boss's behaviour. Instead, seek to understand and be more open to different possibilities.
Stop waiting for your boss to get their act together. Take initiative and be a helpful and courageous conversation starter.
Stop suffering in silence. Be more transparent and respectfully share what you are experiencing and what you need to be the best contributor you can.
Ask for the clarity you need: "I am not sure if I am meeting your expectations around project x, can we talk about this." Or"help me understand what kind of detail is important to you so that I can be prepared going forward."
Stop making this a one-way need. Find out what they need from you.
Start to schedule more regular meetings. You can both cancel when needed, but the regular touchpoints can give you both the structure to stay connected.
Regardless of your role, managing up with an attitude of respect, collaboration and a willingness to be of service can net positive results. And if it doesn't – at least you know you've done your best.
P.S. Here's a video on this too! VIDEO: Bad Boss? Learn to Manage Up! 
Eileen Chadnick, PCC, of Big Cheese Coaching, is an ICF credentialed, two-time ICF Prism award winner, who works with leaders (emerging to experienced), and organizations, on navigating, leading and flourishing in times of flux, opportunity and challenge. She is the author of Ease: Manage Overwhelm in Times of Crazy Busy.