Feel like tuning into a quick video version of this? Here's a video of my rant. Half price today:). 
Have you done anything really stupid that you regret? Of course you have! If you are human, that is.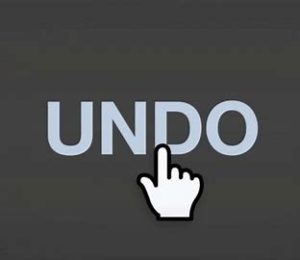 We have all had those moments that we wish we could turn back the clock. Said something we regretted; let our emotions get the better of our better judgment; and did something completely out of character.
As I write this, I recall a few of my own mishaps and, well it feels too embarrassing to share in writing but, if you are curious, here's a quick video bit on all this.
Last Sunday we witnessed someone having one of their own very bad, regrettable moments — with more than a gazillion people around the world watching it (ouch). If you didn't see it, you would have heard of the the 2022 Oscar Awards kerfuffle. Will Smith 'lost it' when Chris Rock joked about his wife Jada Pinkett Smith's bald head. Rock made a G.I. Jane comment while presenting an award at the 94th Academy Award. Seeing his wife frown at the joke, Smith rushed up to the stage and walloped Rock and when seated, shouted 'Keep my wife's name out your f**king mouth' after returning to his seat.
It was so uncomfortable to watch. A very horrible moment playing out before our eyes.
Whose mishap was it? Chris Rock for making the joke or Will Smith for losing control? Or both? Who was right or wrong? Neither or both?
It seems everybody has a strong opinion about who was at fault; and who was right and who was wrong.
I've heard people taking their own punches at Chris Rock and how he should have known about Pinkett's Alopecia condition – and should not have made the joke. I've heard/read about equal measures of indignation about how Will Smith should have known better and should have controlled his emotions…..and a few dozen more 'shoulds'….the Academy should strip him of the award. Yesterday at my gym class, I even heard people saying with absolute conviction that Rock just had to know (about Pinkett's condition); and others who said that Will Smith was known to be a not-nice-guy.
How the heck would they know what was true or otherwise? I don't. Do you?
Please know that I AM NOT CONDONING THE ACT AND THE UNPROFESSIONALISM. It was wrong, unfortunate, and quite sad….
What drives me crazy about all this is that there are so many judgments, assumptions, and convictions — and absolutely little to none in the way of curiosity, compassion. Nada.
Why the heck would someone like Will Smith take such a wrong turn on the path of professionalism on the night that was to be his absolute greatest career achievement?
We simply don't know.
We don't know the back stories that triggered him to be so emotional, reactive, and literally leap towards a sabotaging act on his career, reputation, and more.
We can guess, assume, surmise — but we do not know the context of what was behind this unfolding….the context of his relationship with Rock, with his wife, and her condition – and anything else at play. We don't know.
We only know that we saw him get emotionally triggered and he REACTED.
One again, I'm not condoning the action.  Acts of violence are absolutely a no no. On so many levels and for so many reasons, that 'bad moment' should never have happened.
But it did.
And what drives me crazy about all this is the aftermath conversations. Why aren't people expressing more bandwidth to wonder why? Why isn't there more space within all the assuming for some 'not knowing' and at least making space for a little more curiosity and compassion (for everyone).
What can't we know less and compassionately wonder more — what was at play in Will's 'internal landscape' (what we don't see) that could have have triggered him to nearly sabotage what was supposed to be his greatest career moment? He was a shoe-in to win the Best Actor Award for his portrayal of William Richard Williams, in the King William movie (and he did win). Why oh why would he take a swing just moments before and ruin the whole thing?
I don't have a bleepin clue and within all the noise of the media and speculations and old news, I don't think anyone does (except maybe those directly involved).
People are messy. And we all have our own internal very human, very messy emotions and experiences. Of course, it is incumbant on every one of us to try to self manage those emotional impulses and those unpredictable moments. But this time, it appears, that Will's very messy, human moment got the better of him. Thankfully, no one was seriously physically hurt. But emotionally, maybe yes.
ONCE AGAIN, I AM NOT CONDONING THE ACTION (the violence, the unprofessional outburst).
But here's the thing: He IS a human being. And he had one of those very regrettable, messy human moments. It was a stupid move. It was sad.  It was unfortunate. Thankfully, he did apologize.
But I bet a gazillion dollars (that I don't have) that he is still paying for it. Whether or not the Academy kicks him out, he is paying in reputation, and likely in emotional credits too. That regret and remorse thing. Who are we to determine (to judge) whether or not he is experiencing that? Video clips of him at an after party are not proof of what he was or wasn't experiencing. Probably a mix of things.
Moral of my rant here:
Did you get that I'm not condoning the action (hopefully you heard that).
I am sad about the lack of humanity in the aftermath conversations….with  hoards of people rushing to claim the high pedestals of judgment without an ounce of compassion, curiosity, and empathy for the human beings in all this.
Superstars are not exempt from being a human being and having human, messy moments. Unfortunately their messy moments get aired in front of gazillions of people.
So, brings me back to this. In my little video I share my rant with a confession of one of my own little messy, regrettable human moments. I don't know if anyone will watch it. I'm not a superstar. Just a human. And I stand side by side by all other human beings.
Once in a while, maybe we should stand a little more generously with each other too?
Eileen Chadnick, is principal of Big Cheese Coaching. She coaches human beings in the context of their work, lives — as complex as they may be. And she tries hard to remember what it means to be human for herself and for others. Join her in practising curiosity, compassion, and empathy while also striving to be great (hah!).