Managing virtual teams isn't a new topic. But managing teams that have been thrown into a virtual working context during a pandemic – well, that's a little different.
Recently, I had an opportunity to design and facilitate a workshop (delivered virtually of course) on how leaders can better manage people virtually in times of a pandemic. I thought I'd share some thoughts and themes that I shared in this workshop.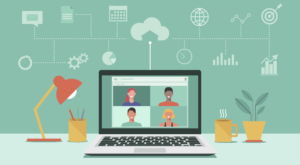 The Challenge and Opportunity:
You are here. They are there. Everything is up for grabs. Uncertainty galore. Chaos for some  with the home/work boundaries being challenged and blended like never before. Screaming kids during the team zoom meeting? Crunched down in a make-shift workspace (ouch, aching back!)? How the heck to manage oneself? To get things done? And to promote resilience and success amongst individuals and the team as a whole?
A leader's ability to lead, tune-in, and be responsive in these unprecedented times is being tested exponentially. As the pandemic marches on and new normals keep evolving, the role and efficacy of the human leader will be ever more critical to personal, professional, and organizational wellbeing.
The Coronavirus Pandemic is an Amplifier — for good, better, or worse.
If you have already been honing your people management skills and abilities to connect, pivot, and be responsive — you will likely have had an edge in finding your way with your team these last months. But if you are overly focused on only operational issues, and not big on connecting at the human level — you may find the challenges and issues will likely have been amplified.
Right now, more than ever a leader needs to embrace and hone the human side of their leadership. Operational issues will always be important but nothing will get done if you aren't connecting with your people and adapting to what's needed – right now, today, in this moment.
What used to be called 'soft skills' are now proving to be nothing but soft. They are hard core, crucial must-haves. Empathy. Curiosity. Agility. Trust. Relating. Just a few of what are utterly essential to be effective in today's landscape.
And as new normals will evolve (we are never likely to go back to the same place as we left in March), a leader can grow into a more effective leader by embracing a growth mindset for themselves and for their team.
Must-Knows: Operational issues, aside, a good leader needs to wonder (not just once, but dynamically and continuously): How are my people doing? What do they need right now? What does this individual need? How can I show up for them to provide the right support at the right time?
By living in these questions you will more likely have a better grasp on what's needed from  you.
More than ever people need…
Clarity (what's my responsibility in said task, project); Feedback (how am I doing/perceived); Meaning and purpose (does anyone care, notice, appreciate?); Connection (am I alone here? where are my people); and Safety & Support (when/if I'm struggling, is it safe to ask for help? Can I be open or do I need to pretend to be okay.
Human Leadership Stepping Up to the Challenge — 10 Good Ideas
Here are just a few themes I recently highlighted in a leadership course I facilitated (virtually of course) upon which various best practices can be identified, cultivated.
#1 Check-ins: This is not the time to be an invisible leader. Checking in on both operational issues and providing enough human touchpoints are equally important. Your presence in the right balance is key. Checking in on both operational issues and human touch-points can happen informally, scheduled, individually, or in team gatherings. The key is to find the right mix and amount that gives people the right flow of connecting.
#2 Tune-ins: More than just a touch-point, a leader needs to truly tune-in. How are you? No really, how are you? A good leader will pay close attention and be curious to make sure their people are okay and supported. Look, listen, and care — you'll likely see more and be able to respond….see next point.
#3 Responsiveness & Flexibility: Sure you'd love that report on your desk by 9am but for the mother who is watching her kids all day and only has some thinking/working time from 9pm-midnight, can you flex on that? More than ever, the leader needs to truly show flex with their people. The old playbook won't work. Co-create a new one that will.
#4 Keep 'em in the Loop! Transparency is always important but now when people are working in a socially distanced way, it's ever more crucial. Silence is NOT golden during these times. Communicate more to help people feel safe, and can trust that you are not holding out on the latest best kept secrets! Tell them what you know; what you don't know; and assure them that you will share more as soon as you hear on key issues that might be creating stress.
#5 Clarity: Mistakes get made even in the best of times – often attributable to miscommunications or communications gaps. Working virtually in such stressful times can escalate this. Make clarity a priority. A few years ago, I helped a large team create their team operating agreement. They codified their commitment to clarity (among others) by including it as one of guiding principles.
Take extra effort to assure clarity in all you do and say. Paraphrase what you think you heard. Make it safe for everyone to ask when things feel unclear. Find/create your clarity playbook with your team and watch things go a lot smoother even in the chaotic times.
#6 Co-create and Collaborate: If you lean towards the directive/prescription side of leadership, this is a good time to get with the times! Co-creating, and collaborating is where it's at in leadership these days (years actually). In today's pandemic, lots has and will continue to change. Work WITH your team to co-create agreements of how you want to show up together, work together, and do the things you need to do. Don't prescribe it all. Instead, invite your team to co-create and you'll get a more invested, enrolled, and productive team. For example, see #5 for an example of a codified team agreement.
#7 Support: Who's job is it to help people manage difficulty and overwhelm? Not yours, you say? Think again. It's everyone's job and especially a leader's role to support people when they need some help. If you've truly been checking in and tuning in, you will know if and when people could use some help — be it some leader as coach support, mentoring, or finding other sources that can be helpful. Let them know how to ask for it. Open (virtual) door policy? Or other…just find a way and let people in.
See more on this here in an extended article and a video (Leaders – Are Your People Overwhelmed?)
#8 Safety: What kind of culture have you created in your team? What kind of personna do you have as a leader? Do people feel safe to ask for help? To let you know when they are having a tough time? If not, then it's time for a make-over. Great leaders build great cultures and in these cultures, it's safe to show a bit of vulnerability and authenticity. Let people know that it's okay to be human.
#9 Team Mojo: Are your meetings bogged down with only operational detail and no time for connecting and rallying people's spirit? Time to ignite some team mojo! Inject some fun, human connecting, learning into your time together be it in regular meetings or create special gatherings. Invite the team to create these so they are invested (perhaps team mojo ambassadors?). Ask people to share one win of the week before starting a meeting; or 3 good things that happened today. Get creative and bring the humans out. This will open up their brains and spirits and guess what? More good work will happen.
#10 Self Care and Personal Resilience: Finally, crucial to remember: a burnt out leader will have very little efficacy in managing themselves not to mention others in these tough times. Make sure you practise self care rigorously. Sleep, eat well, take your breaks, and…..well the list is long. And be a champion for others to do the same. These days, self care is more important than ever.
These are just themes. The real work is putting them into actionable practices. Go on, fill in the blanks within each of these 'good ideas'. Experiment, try out a few things, and see what works for you.
Remember, this is a time when good gets amplified. So even small changes can make a powerful difference.
Find your own top ten best practices. Share them. Would love to hear more…
Eileen Chadnick, PCC, ABC is principal of Big Cheese Coaching and an award-winning coach and communications professional in Toronto. She specializes in career management, leadership development, and communications. She works with leaders (aspiring to experienced) and organizations to foster personal, professional, and organizational wellbeing. She draws from the disciplines of emotional intelligence, Conversational Intelligence®, and neuroscience. Author of the book, Ease: Manage Overwhelm in Times of Crazy Busy, Eileen is also a contributing leadership and careers columnist with the Globe and Mail. Join her in conversations about leadership, learning, life!