UPDATE (December 10, 2020) — a brand new set of 12 questions are coming sooooon! Want in? Make sure to check back at my website — or better yet, sign up for my newsletter and get them delivered right to  your inbox. You'll be first in the queue to get them. 
—
Now Back to Original Post…
***NOTE*** — There is also a VIDEO version of this article. Scroll down towards end of post for the link. 
If you've taken time to reflect on any or all of the "12 Questions" I shared in December you've likely come up with some insights, ideas, and aspirations for the year ahead (aka your 'vision 2020') — and if you haven't yet, it's not too late as the year is still young. Perhaps this reflection has given you more clarity on what you want for the year ahead; sparked a new goal; and maybe a promise to yourself that this will be the year for _____(fill in the blank)!
But there was one question I held back. It's actually a two-part question and crucial if you want to actualize your hopes, wants, goals for the year ahead. Without this question, those shiny aspirations may get duller as the days and distraction of the new year march on.
Who do you need to be? And how will you show up?

Who do you need to be to achieve your said goals/aspirations? And how will you show up to honour this when X, Y, or Z happens or doesn't happen?
First let me clarify: I'm not talking about resolutions here. I'm talking about goals – and they matter. The right (meaningful) goal can energize us, amplify hopefulness, provide focus, and give more purpose in our lives. Setting and achieving meaningful goals helps us actualize our potential. We grow, stretch, and learn along the way (and many of the initial 12 Questions touch on those related themes).
But setting goals is only half the equation. The other half involves all the stuff that helps us achieve the goals and aspirations. Having a plan, structures and support to make it happen – and so on. An important part of this is how we manage ourselves in the pursuit of our goals – which brings us to that crucial 13th question. Who do you need to be (in context of said goal) and how will you show up (in pursuit of said goal)?
Let's face it, when reality bites, willpower alone won't suffice.
No matter how much you aspire and want the goal, life, circumstances – and our own mindsets – can often get in the way. We get distracted, we lose focus, we may falter in our confidence. It's all part of being human. But not helpful when we've got a goal that's wilting on the sidelines!
Willpower is a good thing but only goes so far. We need more. We need to count on ourselves in ways we may not realize until a challenging moment arrives. And counting on ourselves doesn't mean we have to go ultra solo on our goals. Au contraire! Sometimes 'showing up for ourselves' means connecting with others for support and/or asking for help.  Whatever it means in that moment – it begins with asking the question…
A powerful question that needs to be 'lived into' vs. quickly answered…
This two-part question needs to be lived into. It's not a one-time ask and answer thing. Your answers will emerge by asking it in a given moment. You can't pre-plan it all! The more you cultivate the habit of asking this question the quicker you may access that part of you that has wisdom to guide you intelligently.
Personally….
I've been living in this two-part question ever more since doing my 12 Questions reflection for myself. I have some pretty important goals (personally and professionally). I recognize that if I'm not on my best game (in so many ways), I will risk losing focus and not fulfilling my intentions and aspirations.
So I'm cultivating the habit of personally asking myself this question more frequently.  In the contex of my goals, I'm seeing themes emerge related to being more courageous, focused, disciplined. And as the distractions of the day occur (including mindset matters – ahem, lack of confidence, or a distracted mind), I ask myself: how will I show up right now? Simply asking this question has been a powerful experience opening up new insights and paths to more confidence, productivity, compassion (when I falter), focus, and clear thinking – all when I needed it most.
To my clients, friends, and anyone reading this post – I offer this question to  you to help you maintain momentum over the course of the year ahead.  Remember that asking the right question at the right time can trigger wisdom from within in remarkable ways. Try it on….
Over to you…
In the context of your own goal or aspiration ask yourself:
"Who do I need to be to achieve ___(said goal/aspiration); and "How will I show up to make this happen?"
Do you need to be more focused? Disciplined? Courageous? And/or something else?
Then (how will you show up?): As best as you can see from your current vantage point, how will you show up in light of anticipated challenges, circumstances, distractions? What will you do/not do; do less of; do more of?
Then keep asking these questions…
Ask them daily. Ask them in given moments when you find yourself challenged or distracted. Post this question where you can see it. Experiment. Notice. See what happens.
What does it mean to 'show up'. It will look different at various times. It might mean slowing down; or maybe speeding up. It might be pushing yourself harder; or maybe going easier on yourself and surrendering. It might involve other people; or ask that you dig in to your independence. It might ask for you to be more compassionate with yourself and practise patience — or it might be a kick in the pants to stir things up and not be complacent.
You will know what it means if you ask with an open, and quiet mind.
VIDEO: Watch the Video — an 'uncut Conversation With Eileen Chadnick (click on photo below)
Quick disclaimer on this 'uncut' video below: I'm experimenting with a new video platform to use for some of my video needs. When I recorded this, I didn't notice how much of my 'mess' in the background was picked up. I decided to 'throw it in' anyhow (not redo video). Please excuse the MESS but do pay attention to the MESSage:). Also – been told I appear to be looking down. I was looking at screen but alas, didn't show up that way. I will try to do better next time:)! But please tune in and listen to the MESSAGE and see what opens up for you!:)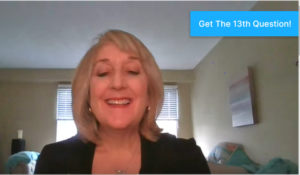 Here are a few more ideas and some offers from me that you might consider:
Hire a coach. If you want a collaborative partner to help you stay in these questions, consider hiring a coach. FYI, there are times within my coaching practice, when I open up some spots to new clients. If you think we might be a fit, get in touch (send an email) or if you like, you can also take a few moments to share a bit with yourself via this confidential mini questionnaire.
Join a learning community. There is a saying 'we go farther together'. Find a 'tribe' to connect with and learn with. And if you are a leader, or an aspiring leader, I'm putting together a leadership accelerator offering that you'll at minimum want to hear about and get first dibs on when I open up. Simply send me a 'wink' via the link just below and I'll make sure you are in first priority to hear more details when I'm ready to announce further info. There's no obligation to join (when my doors open on this), but you will be on my priority list to get news on this and other related stuff.YES – I want to hear more about the Leadership Accelerator offering coming soon.
Join my main newsletter list. If you aren't on my regular list for news and updates but would like to receive more articles, news, invitations – then sign up to be included. You won't be bombarded and you can unsubscribe anytime.Yes, please add me to your newsletter list.
Here's to a great start and many productive, meaningful strides towards your Vision 2020!
Eileen Chadnick, PCC, ABC is principal of Big Cheese Coaching and an award-winning coach and communications professional in Toronto. She specializes in career management, leadership development, and communications. She works with leaders (aspiring to experienced) and organizations to foster personal, professional, and organizational wellbeing. She draws from the disciplines of emotional intelligence, Conversational Intelligence®, and neuroscience. Author of the book, Ease: Manage Overwhelm in Times of Crazy Busy, Eileen is also a contributing leadership and careers columnist with the Globe and Mail. Join her in conversations about leadership, learning, life!