Do you have your word or theme for 2019 yet? This is one of the questions that I ask each year in my annual iteration of 12 Questions to Complete the Year and Start Anew". 
I didn't find my theme until well into the first week in January when it found me. I was finally relaxing and settling down after a very jammed packed, overly busy period. I began the holiday season utterly exhausted. And when my brain finally started to thaw, I started to get super creative and found myself experiencing a fresh new wave of hope, inspiration, and possibilities. In that moment of spaciousness, my theme for 2019 became super clear.
Space and Possibility.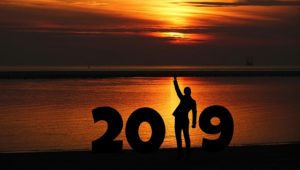 While in some ways that theme has always been dear to me – and probably more aspirational than a reality. At the moment in time, it felt more real to me and it has already been presenting itself with genuine possibilities (for thinking, for creating, and for attracting new opportunities).
What happened? Well,  I've recently made some big work-related changes that have given me more space – literally, in my calendar, as well as in my mind.  I'm winding down a very time-intensive two year coaching contract that brought me many rewards (great coaching clients, wonderful colleagues, lots of learning). But this contract also demanded a tremendous amount of my time and took up an equally hefty amount of my brain bandwidth.  Because my work includes many other facets and pursuits, these past two years were probably the most 'jammed' than ever before. I love my work. But I confess, I was in overload (yes, I know, I wrote the book on this).
Then over the holidays, I finally had a chance to 'settle down' – my mind, body, and usual crazy work pace.
In the early days of this shiny new year I began to recalibrate for a new kind of year ahead. I felt a surge of what I can only call "a really good feeling". With that I started to notice space and possibility emerge – everywhere! New possibilities (ideas, connections, opportunities) started to pop up everywhere. From big to super small (i.e. even tiny things like making more space in my garage because I downsized my garbage bin!).
Now – I know the realities (mine anyways) and I can't expect that this lovely feeling will sustain in a consistent way. It will more likely ebb and flow as I engage in the work ahead and alas, being human and all, my thinking (and calendar) can challenge me in holding on to that spacious feeling. But right now, as I stand in the early days of the year, I'm going to do my best to notice, create, and enjoy as much space and possibility that I can find – even if in the tiniest of ways.
Here are just a few thoughts related to space and possibility that I'm present to in this moment.
Space takes many different forms. Sometimes space is more literal such as making time in your life/work/days. Or in your physical surroundings – cleaning up your office, home, desk, tiny corner.
It's also greatly about mindset. Our thinking…
That thinking thing. This can't be under-estimated. Our perceptions can change everything. Sometimes I'll go from a feeling of tremendous spaciousness to a serious feeling of 'not enough time'. Nothing literal has changed. Just my thinking around the situation and my available resources. This is a biggie. Hard to fully control but very worth paying attention to and being open to the possibility that our personal thinking might in a given moment be the root cause of 'not enough'. Sometimes we can try on a new thought. Other times, best to wait it out a bit and focus on something that might simply 'settle you down in your mind and thinking'.
There are many ways to settle down. Simply take a few moments to focus on your breathing – perhaps a bit of meditation; take a walk; shift gears; and much more.
The universe knows. You know that expression: when one door closes, another opens up. I believe this is a universal truth. The universe will often hold back if you are too jammed (in time, availability, and your mental/emotional availability & bandwidth). Once you do finally make some real space, well – cool things (possibilities) start to occur. You notice more opportunities (who put that opportunity right in my face?!); more come in a 'supposedly' serendipitous way; and you see more and can create more. This is a nice reminder and the basis for trust. Y'a still gotta engage and do your thing, but it's nice to know that the universe is more apt to show up when the 'space is right'.
Fatigue and burn-out are space and possibility robbers: Fatigue (mental and physical) is a space thief. I know far too well that when I'm tired, my sense of spaciousness and possibility are missing in action. This is true even if I have oodles of extra time on my hand. In fatigue, I'm more apt to feel constricted and I fall into my limited thinking with my inner critics shouting "Not enough time!"  When coaching, I'll often check in with clients on their fatigue factor because so often, their perceptions are influenced by their fatigue. I've had many coaching clients completely transform their perceptions of their situations and possibilities (for the better) by getting a few nights of good sleep!
Rest and recovery are essential to experiencing 'space and possibility'. If space and possibilities are true intentions, then rest and recovery have to be as well. This is hard to do when racing in our crazy busy work-lives. But there's no way around it. Extreme self care is all the more critical in times are a 'crazy busy'.
There's lots more I'm sure – and would love to hear from you!
What shows up for you when you allow for and create space in your life and inner world? What do you notice? How do you settle down and create space?
In the early days of basking in the glow of this idea, I welcome you to either share in this with me if this resonates – and/or find your own theme and intention for the year ahead. See Question #12.
Wishing you a fabulous start to the new year with your own space and possibilities!
Eileen
Eileen Chadnick (@Chadnick) is a certified coach specializing in career, executive and leadership development and a communications pro (20+ years of experience). Principal of Big Cheese Coaching and Chadnick Communications in Toronto, Eileen draws from the disciplines of positivity, neuroscience, emotional intelligence – and Conversational Intelligence®(C‐IQ®) in her work as a coach, consultant, trusted advisor, and facilitator. In addition to authoring the book, Ease: Manage Overwhelm in Times of Crazy Busy, Eileen is also a contributing leadership and careers columnist with the Globe and Mail.