Complimentary Hub Talk (via Zoom) – Brought to you by Big Cheese Coaching / Facilitated by Eileen Chadnick
In an earlier post, I wrote about 10 Common Career-Limiting Mistakes You Want to Avoid. One of those mistakes relates to "networking blahs". I talk to a lot of people who have an aversion to networking. Does networking feel 'icky' to you? Do you really have to do it? Aren't there other (and better) ways to navigate your career? What if you just aren't good at it? And, can you really learn to network without feeling so awkward and uncomfortable?
INVITATION:  Join me at The Hub on March 16th at 12:30 ET – a live online gathering (via Zoom) where we'll dig into a conversation about the why's and way's of networking in a way that feels more 'right' and less 'icky'. This will be relevant for anyone at any stage of their career — not only for job seekers. Networking is a crucial skill for ongoing professional/career wellbeing — and increasingly so, now that we are in a Gig Economy.
This is a complimentary event but you'll have to register (limited spots). I won't be sending out a recording so you'll need to show up if you want 'in'.
Registration takes just a minute — REGISTER HERE.
Got Questions? Scroll down for FAQs: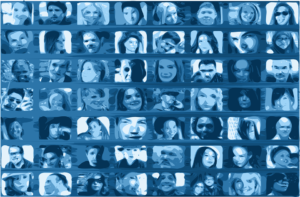 (Photo courtesy of Pixabay/ Geralt)
What kind of talk is this? What can I expect? This is NOT a formal Webinar but we will be online together via the zoom platform* (or a few of you may dial in by phone). I'll likely have a few (or more) slides and a lot to share. I'll kick things off and bring some good content to get us started; and likely offer good tips and guidance along the way (I do bring 14+years of career related coaching experience to the table, so you can count on some good content). But the Hub Talks are meant to be interactive and a dialogue. Who knows where we'll end up?  We 'flex' at the Hub so come with your curiousity and questions.
What's Zoom? Zoom is an online meeting space that allows for video conference participation or phone (dial in). The Zoom platform is easy to use, quick to download, and incurs no additional costs other than internet and/or phone if dialing in. You can choose how you want to participate online — i.e. with or without video (i.e. visible or invisible). Once you're in we will show you the 'controls'.  If you don't have a device (laptop, tablet, IPhone) that enables audio-visual, you can also dial in by phone.  For video conference participation – you can download the app in advance if you feel like (takes only a few seconds) at www.zoom.us
First time on Zoom? Here's a quick tutorial on how to use zoom. Click here for brief Zoom Tutorial.
How do I get access for this particular Hub Talk? Once you register, you will be sent a confirmation email with the zoom link and info. The zoom link that will be unique for this event. Read the info above on zoom and download the brief tutorial if you like.
Can I share my questions in advance? Yes please!! The best way to do that is in your registration. There's a question that invites you to share questions. I'll have a few to start us off but this is meant as a conversation so I'd love your questions.
Will I be seen on the video conference? What if I prefer not? Good question! During the zoom talk, there will be times when you will just see the screen or the speaker. Other times, we'll have the 'room' visible. If you don't want to be seen, you can turn off your video. All you will have to do is hover your mouse over the 'controls' at the bottom of your screen. Clear as mud? No worries, we'll walk you through the controls when we meet and the zoom tutorial can give you a leg up in advance if you like.
Will this talk be offered again? What if I'm interested but can't make this date? I'll be offering many more Hub Talks in the future. Networking is a big topic so there's a good chance we can revisit this topic again. I also have a whole bunch more ideas in queue that you may find interesting too. I'll speak to this when we all meet at The Hub on March 16th (i.e. a bit of a preview of other potential talks to come).
How will I hear of future Hub Talks? Best way is to get on my newsletter distribution list if not already there. I will always send an invitation to this community.
Will you send registrants a recording?  Nope. This is a complimentary event but you'll have to show up to get in. Possibly for future offerings (courses, etc.) I would be offering the recording, but my Hub Talks are like 'pop up' events. And you need to be present to enjoy them.
Ready to sign up? Mark your calendar for March 16th at 12:30 ET and click the button below. Make sure you complete all questions (very brief) to get your confirmation email.
I look forward to seeing you there!
Eileen Chadnick (@Chadnick) is a certified coach specializing in career, executive and leadership development — and a communications pro (20+ years of experience). Principal of Big Cheese Coaching and Chadnick Communications in Toronto, Eileen draws from the disciplines of positivity, neuroscience, emotional intelligence – and Conversational Intelligence®(C‐IQ®) in her work as a coach, consultant, trusted advisor, and facilitator. In addition to authoring the book, Ease: Manage Overwhelm in Times of Crazy Busy, Eileen is also a contributing leadership and careers columnist with the Globe and Mail.