UPDATE: Although this  event has passed – you can catch the highlights right here in this summary. 
—
Are you a small business owner? Heading up a start-up? Leading a team? Or maybe thinking of making the jump to entrepreneurship?
If you said yes to any of the above, then please join me and Dell SMB Canada on Thursday as we co-host a Twitter chat exploring what leadership means today for small-to-medium sized businesses.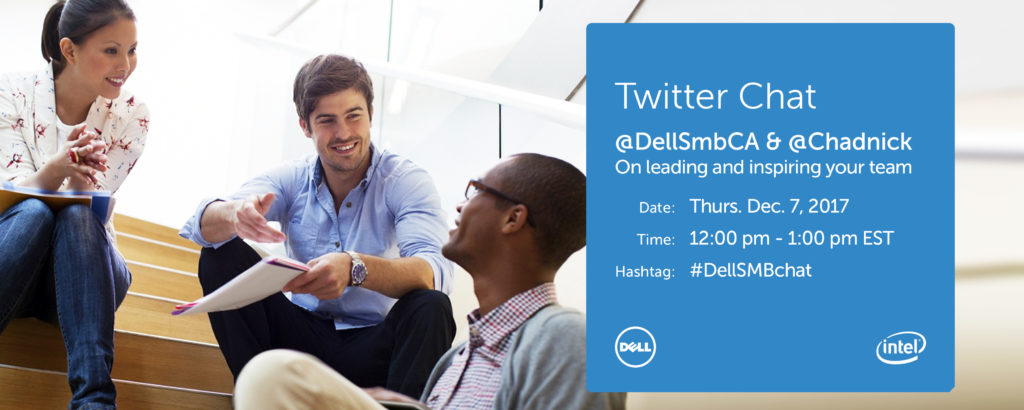 DETAILS:
Get on Twitter at noon ET on December 7  and join in the conversation. Hashtag #DellSMBchat and include @DellSmbCA and @Chadnick.
TOPICS WE'LL EXPLORE TOGETHER:
What qualities does a leader need to lead and inspire a team at a start-up or small-to-medium business?
How to engage your team and create a thriving internal culture?
What leadership mistakes should you avoid?
In times of 'crazy busy' how does a leader stay resilient and on top of their game?
And more…!
WHY YOU? WHY ME?
If you are a leader, or an aspiring leader, in a small-to-medium business, it's always a good idea to build that leadership-ability muscle. We'll be exploring and sharing a lot of good tips. Also – a great way to connect with others in the space.
Why me? Perhaps we've met before. But if you don't know me, a quick intro….
I'm Eileen Chadnick, a certified coach specializing in personal, professional, and organizational well-being. I started my own journey in entrepreneurship twenty years ago (wow – time flew!).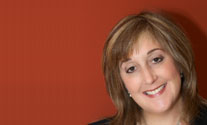 Over the years, I've learned from my own experiences and from coaching others in the world of leadership, work, and life so many valuable lessons.  You can read a few of these that I shared here. This post was written after my first 10 years in biz. The lessons are still relevant many years later. 
But don't stop there – the story continues. The economic and career paradigm today is shifting profoundly. More people will be starting new businesses, or joining. The times have changed from even just a few years ago. It's imperative to stay on your best leadership game.
Where-ever you are in the continuum of your small business career journey, we want to connect with you. Take an hour and connect, chat, and share your own tips, experience, and even questions.
We look forward to seeing you there.  Here are the details again:
Thursday, December 7 at noon ET.
@ Twitter — @DellSmbCA  and @Chadnick
Hashtag #DellSMBChat
See you there!
Eileen Chadnick (@Chadnick) is a certified coach specializing in career, executive and leadership development. Also a communications pro (20+ years of experience), Eileen is principal of Big Cheese Coaching and Chadnick Communications in Toronto. Eileen draws from the science of positivity, leadership, neuroscience, emotional intelligence – and Conversational Intelligence®(C‐IQ®) in her work as a coach, consultant, trusted advisor, and facilitator.