It's Summer time. When the living is (supposed to be) easy…..
It's the Ease Book Summer Give-away! It's summer and the 'livin' is (supposed to be) easy. To celebrate the season, I've decided to share a bunch of content from my book, Ease, for you to read at your leisure — and get you ready for the oncoming 'crazy busy' season just ahead.
This is "Ease-y" reading — each section (Chapter or Tool) will take about 2-3 minutes to read (max 4 for the longer ones).  The whole table of contents is laid on this page — at my Ease Book website. The 'freebies' are hyperlinked.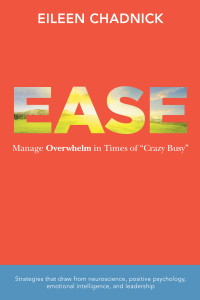 Available for a Limited Time – Don't Procrastinate! I'll be taking a few of these links (chapters/tools) down sometime after Labour Day so make sure you have a chance to dip in sooner than later. You'll need these strategies when the busy, busy, busy season begins (September – but for many of us, it's year-round).
Not sure what Ease is about? Check out a brief description below and — Here's an Overview:  
"We live in times of unprecedented busyness. The demands and pace of work and life are at an all-time high, and they don't appear to be slowing down. Whether our loads are self-imposed or put on us by others, most of us are doing our best to squeeze it all in—and we're starting to burst at the seams………..In Ease, author and certified coach Eileen Chadnick offers strategies for these busy times with a toolkit of hundreds of tips and strategies to bring more ease into your work and life. The strategies—tried and tested through Chadnick's personal experience with herself and her clients—draw from the wisdom of neuroscience, emotional intelligence, positive psychology, leadership, and coaching……Ease is for people who want to step it up, not step it down — yet Ease is about more than just getting things done; it will help you alleviate overwhelm, reconnect with your work-life mojo, and experience greater personal and professional well-being…." (Read more in the full Overview)
AND MORE!
Feel like getting the whole book (e-book and hard copy options available).  Hop onto the Buy Ease page and you are just a couple clicks away from the getting the whole shebang. But seriously – this summer give-away is packing in a whole bunch of good stuff for you to start with too. No catch – just good ease-y reading for you.
Enjoy your 'Ease-y' reading and get ready for the busy season just up ahead (shhh, we won't go there just yet).
One more thing! From time to time, I invite my newsletter subscribers to join me in discussions, presentations, courses and more. Don't miss out!  Join my newsletter to stay in touch.  You won't be bombarded and you can unsubscribe any time!
Eileen Chadnick (
@Chadnick
) is a certified executive and leadership coach; a communications pro (20+ years of experience) and principal of
Big Cheese Coaching
and Chadnick Communications
in Toronto. Eileen draws from the science of positivity, leadership, neuroscience, emotional intelligence – and Conversational Intelligence®(C‐IQ
®)
in her work as a coach, consultant, trusted advisor, and facilitator
.