(A seasonal favorite – reposting this article as a reminder as we enter the last few weeks of the year)
A version of this article has also been published in the Globe and Mail. See it here!
It's that time of the year: finishing off work assignments for the year-end; making plans for the year ahead; hustling and bustling through holiday to-do's; attending parties and more.
Indeed, t'is the season…..of rush!  The end of the year can be a wonderful time but it can also be hectic and stressful.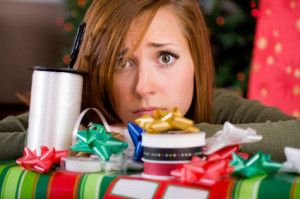 Here are some tips to help you manage the year-end season of 'rush' with more ease.
Write it down:
One of the key principles outlined in my book, Ease: Manage Overwhelm in Times of Crazy Busy, is to get the loads out of your head but keep them top of mind. Trying to remember all your tasks and to-do's creates a sense of chaos and can trigger that 'yikes' (stress) response – which further compromises your brain's ability. You need to be at your best to carry the loads so get organized; write things down; have a road map to keep you on track this holiday season.
Triage:
In a past episode of the Good Wife, the character Alicia Florrick was asked by a reporter how she handles the loads of being a parent, a busy lawyer with her own practice and now running for public office. She said: "Like all busy, working parents, I've learned to triage." Well said! These days in times of 'crazy busy, we all need a repertoire of prioritizing skills – and during excessively busy times, we need to ramp this up further.  Triaging is prioritizing on steroids! With the demands amplified at this time of year it is impossible to 'do it all'. Identify the absolute essentials and commit to those first. Then park or reschedule other things that can wait. See next point on saying 'no'.
Learn to Say No:
Ouch! Saying 'no' is difficult for many people but saying yes to more than you can handle will do you and others no good. The holiday season can bring more work, more stress but also more invitations (to the good stuff) that you might be able to handle. It's important to recognize that there can be too much of a good thing when our time is so limited.  Recognize your limits and learn to say no or at least 'no, not now'.
**UPDATE**! See my article on "The Myth of Yes"
Don't Grinch out on Self Care:
With the extra loads and ramped up schedule, it's easy to skimp on sleep, exercise and proper eating. But this is the time you need self care most. Who needs to get sick during the holiday break? Be mindful of getting ample zzzz's, exercise and good nutrition because you'll need all the resilience and energy you can get to keep up with the pace and enjoy the holidays too.
Enjoy the season but set appropriate boundaries.
This is a season to enjoy. But do pay attention to how much you indulge because New Year's is just around the corner. To ensure you start the New Year off right, pre-empt regrets from over-indulging in food, drink, spending by setting appropriate boundaries. Your waist, wallet and well-being will be grateful to you!
FOR MORE:
Sign up to Eileen's community to receive articles like this to your Inbox. And hear of news, invitations, webinars to support your personal, career, and professional wellbeing — including lots on Leadership-ability.

If you enjoyed these tips you will get much more in Chadnick's book, Ease – Manage Overwhelm in Times of Crazy Busy.
About Ease:  Ease offers strategies to manage overwhelm in times of crazy busy. Ease provides a toolkit of ideas that are deceptively simple yet draw from the wisdom of neuroscience, emotional intelligence and the science of positivity. Available in most major online retailers in North America, Ease comes in soft cover, hard cover and an e-book. See www.Easerx.com for more information.
Eileen Chadnick (@Chadnick) is an executive and leadership coach; a communications pro (20+ experience) and principal of Big Cheese Coaching in Toronto. She is the author of Ease, a book offering strategies to manage overwhelm in times of 'crazy busy' and a regular contributor to the Globe and Mail Careers.