My Recipe for Recharging Creativity and "Think-ability"
Do you ever feel like your thinking is a little sluggish – maybe even stuck? You have a problem but can't think your way through it? Or a creative challenge and you are feeling anything but creative? I experience my own share of this. And thankfully, I have a recipe to remedy this:
Take 2 cups of flour, about 8-9 potatoes, some sautéed onions, and….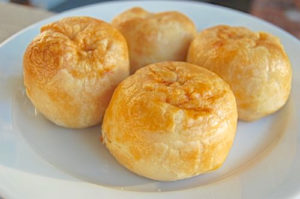 Oh wait – this looks like my recipe for potato knishes…..well, actually it's also a terrific recipe for getting your thinking back on line and what I like to refer to as "Clearing the Cache".
In the world of computers, tech types tell us that we need to clear our computer cache now and again. If we don't do that, our computers become sluggish, process data more slowly, and just don't function optimally. They also hold on to old web pages that aren't useful anymore
People are like that too. Today's work tends to lean fundamentally towards thinking jobs. We are at it constantly. Sometimes we can get stuck with old thinking patterns or suffer fatigue from too much thinking going on. To perform optimally, we need to deliberately take time to clear out our mental clutter to improve our thinking power, creativity, and ability for fresh ideas.
To clear our cache, we need to unplug from our current thinking activity and completely shift gears. Have you ever noticed that some of our best ideas happen when we are not thinking—or, rather, not deliberately trying to find the answer or come up with an idea? There's actually some neuroscience to this. You can read more about that in my Tool #13 in my book,Ease. 
The miracle of potato knishes.
I have a whole bunch of activities that help me clear the cache. Notably, baking and cooking can sometimes do the trick. I wrote about this in my book Ease: Manage Overwhelm in Times of Crazy Busy. I described how making potato knishes got me out of a writer's block. While rolling some dough, sautéing onions, and mashing up potatoes, I started to relax and my thinking opened up. Lo and behold: 24 knishes later I also had 6 new ideas and insights – many of which made it into the book.
Summer time (or anytime) is ideal for taking a break and clearing the cache. It's also a great time to read. I've posted the Ease chapter (Tool #13: Clear the Cache) as a (hopefully helpful) reminder to take some time out to clear your cache.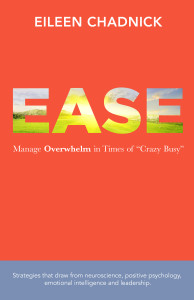 Soon we will be back to the usual routines so take the time now when the living is (supposedly) ease-y….
Enjoy the rest of your summer. I'll be back soon with more.
—
Eileen Chadnick, PCC, ACPC, ABC, is an executive and leadership coach and communications pro (20+ years). She is principal of Big Cheese Coaching and Chadnick Communications in Toronto. She is author of Ease: Manage overwhelm in Times of Crazy Busy.  Follow her on Facebook at: facebook/bigcheesecoaching.com and Twitter@Chadnick.