According to a recent Globe and Mail study, 59% of Canadians feel stress out and unable to manage the pressure, and as a result they are less satisfied with work, less productive, and less healthy.
Hmmm.  That's no fun. Further more, 67% say their current job expectations feel too demanding.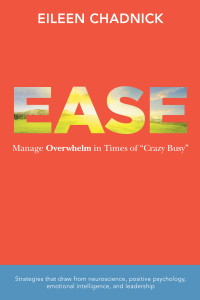 If you can relate then hold the date for a free Webinar that I'm doing courtesy of and hosted by Charity Village:
Finding Ease in Times of 'Crazy Busy':
I'll be drawing from the themes and strategies outlined in my book, Ease – Manage Overwhelm in Times of 'Crazy Busy'.
Queue up an hour and learn some super 'ease-y' strategies to help you navigate times of busy with better thinking, more energy, a greater sense of control and calm, and new strategies to boost your positivity and mojo!
When: March 6th at 1pm – 2pm ET
Where: Webinar online (from the convenience of anywhere you are)
How:  More info and registration here
Hope to see you there! It will be a worthwhile investment of your time.