If Dorothy from the Wizard of Oz was managing her career today I think she would immediately recognize that things have changed.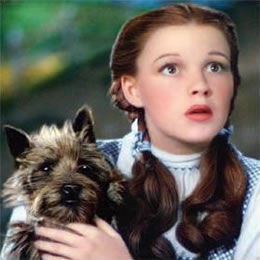 I mean really changed.  As Dorothy might say "Toto, we're not in Kansas any more".
There's been a paradigm shift these past few years and the landscape is still evolving. Marked by radical changes in how we work; who we work with; how we network; how we find jobs; how we tell our story; and how we keep our jobs and manage our careers — and more. Changed, changed, changed.
Want to hear more? I'll be presenting at the Toronto Public Library on May 7th at 6:30 to 8pm on "Career Well-being: Navigating the New Career Paradigm."
I'll talk about a few of the key shifts such as:
1) Bye bye 'job/career' for life – and how this can positively affect today's careerist and the challenges to be aware of too.
2) How social media is impacting the career landscape — from the opportunities in today's careers; how you find work; the impact of how you can build (or destruct) your own brand; and much more.
3) Unretired life —  how the change in so-called retirement landscape is shifting the lens on work duration, type and stages. This has an impact on all generations.
More! I'll address themes and ideas such as:
Is there really such a think as the  perfect job; How does your work orientation affect how you navigate the new landscape (do you see work as a  job, career or calling?); and I'll bring some concrete tips for how to crash-proof your career with some nuggets on what you need to do to be ready – any time.
So – whether you are happily employed or looking for your next work opportunity join us for an interesting discussion.
DETAILS:
May 7, 6:30-8PM
Toronto Reference Library – Elizabeth Beeton Auditorium —
789 Yonge Street, Toronto, ON
M4W 2G8