I just received my first hard copies of my new book,  Ease , last week! I've had many people share with me they were looking forward to reading Ease so here I am with the good news:
It's Ready. Come and Get It! (please and if you like) 🙂

This is so very exciting for me.  See the pic below of me signing my first book for Terry Fallis* – a friend and superstar Canadian novelist. Terry has so generously provided some publishing savvy tips and guidance to me — and took the time to read Ease and offered some advance praise.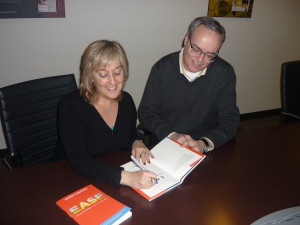 *Terry Fallis shows me the ropes – how to properly sign a book! Terry is the award-winning author of The Best Laid Plans and cofounder of Thornley Fallis Communications.
 
Ease is now available to order from several major online book retailers.  In the weeks and months ahead, Ease will be available at thousands of online retailers globally. Right now, many of the major retailers are posting it. See links below.
There are three formats: hard copy (my favorite); soft cover and e-book. Currently not all online sites are posting the e-book just yet (but more will in the weeks ahead).
If you go to a site directly, rather than searching for 'Ease' type in "Eileen Chadnick" and it will take you to the Ease page if it's posted. Better yet, check out these links below and they will take you directly to the Ease page. Note: pricing varies so look for the best deal!
There are and will be more availability in the weeks ahead. Do check out my book website 'buy' page for more details on retailers and delivery timing (especially if buying Ease as a holiday gift).
Would love to hear your feedback! Please share and help spread the word.
Oh and there are more updates and photos at the brand new Big Cheese Coaching Facebook page – please do visit and 'like' to stay abreast of news, events and more!
Here's to a TGIM work life with abundance and Ease.
Eileen