I've been swimming blissfully in the study and application of positivity for quite some time and lately have ramped it up a notch. I have always been hugely interested in and engaged with the science of positivity. I think it's part of my innate DNA — but also very much a learned skill too.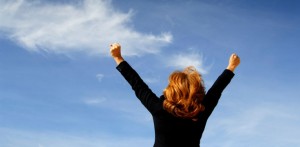 Recently, I've joined a group of global participants in an eight week  learning opportunity: a master class on positivity lead by the Barbara Fredrickson, the pre-eminent expert on the science of positive emotions and author of Positivity and Love 2.0.  This has been an amazing experience (and we're not yet done).
I've also had the opportunity to bring the topic of positivity to several workshops and presentations lately (talking to staff at Sick Kids Hospital, UoT, Administrative Professionals Conference, Red Mountain Resort) and have more on the horizon.  It's been tremendous fun and the participants seem to have really enjoyed the sessions. Check out the recent testimonials.
I just wrote an article for the Globe and Mail on the positivity advantage  (as part of my "Brain Works" series). It's been getting a ton of buzz. You can read it here.
I'm learning so much  (from my studies and 'living it'). Here are just a few tidbits.
1) Positivity matters: It is not just a 'nice to have'. It is truly an essential ingredient to your success and well-being. There's over 20 years of hard scientific evidence that links positive emotions with better health, improved brain and cognitive function, greater personal efficacy, a heightened ability to connect and a spark plug to boost your mojo (and much more….but hey, that's plenty to convince me).
2) It's in us already – we just need to tap into it with new habits: Positivity isn't dependent on circumstances. Positive emotions can reside side by side with a range of emotions – even the not-so-positive. We just need to be intentional and learn easy yet authentic ways to tap into our positivity reservoir.
3) We need a steady and diversified diet of positivity: Good nutrition tells us to get a steady and ample diet of fruits and vegetables (and other essential food groups). Likewise, for well-being, we need a steady, ample diet of positive "moments". Most people go with less than the recommended allotment. It's not as hard as one may think to get your 'dose'.  It can be just a thought away – or an intention to be present to moments that might offer you joy, gratitude, inspiration and more.
4) Positivity comes in moments: It's not about getting to a permanent state. Positivity comes in moments and are fleeting. Still, if we get enough (a minimum of 3 positive thoughts to one negative) we will benefit from all the rewards.
Curious? Want more? Here's how to tap into this further:
1) Read my latest Globe and Mail article for some high-level ideas and tips.
2) Get ready for Ease, my upcoming book soon to be released. It includes a lot of strategies on how to hone the positivity advantage.
3) Invite me to speak to your people (conference, employees, etc.) Have a look what others have said about my sessions.
4) Engage in coaching – this is my sweet spot and I'd love to help you hone your positivity advantage!
More to come but lots to dive into RIGHT NOW!
Enjoy and may you live with Ease and Well-being.
Eileen