UPDATE ON EASE – Pre-launch News:
The T's are crossed. The i's are dotted. The book is now in the stages of design, production and….drum roll please: closer to launch.
For those of you subscribing to my newsletter, you have heard me talk about a book I've been working on for quite some time. Much of the past months (year) have been about writing, editing, etc. Well it's time for a shout-out:
COMING SOON!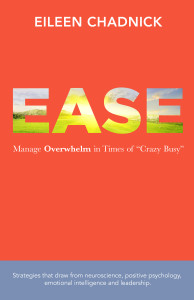 (Book Design Concept by H2 Marketing Central)
The front cover concept above is not yet 100% final because we may be tweaking the words on the bottom and I'll have more to share as we finalize the back cover too.  But it's pretty close.  And a huge shout-out of thanks to H2 Marketing Central who designed this cover concept. Looks good eh?!
In the meantime, I've been receiving some stellar advance praise — I can't wait to share with you (stay tuned for an upcoming post on this).  And more good news: Ease has also been awarded an 'Editor's Choice" from an independent panel associated with the publishing company I am working with. This is a thumbs up on the editorial quality — I've gone the self publishing route so this is a very important stamp of approval by a panel of industry editors. Well – that puts me at 'ease' to say the least!
Gotcha curious? Make sure you come back and visit soon….I'll be sharing more news about the launch of Ease in the weeks ahead as we get closer to take off.
So what's Ease all about? If you haven't heard me speak of this before read on for a little description….
——
EASE
Do you ever find yourself asking, "Where did the day go? Where did the week go? Where did the years go?" Do you look at the stuff you have to do and ask, "How the heck will I get all this done? How will I survive this week, month, year? Where did all the fun go?"
Do you sometimes feel bogged down and overwhelmed by it all? We live in times of unprecedented busyness. Having too much to do in work and life seems to be the new normal these days.
Ease offers strategies to manage overwhelm in times of 'crazy busy'.
The heart Ease is a toolkit that you can customize for your own personal and professional well-being.
Ease offers hundreds of deceptively simple ideas and tips backed up by the rigours of neuroscience, emotional intelligence and the science of positivity. You can pick your spots with simple ways to make work and life flow with more ease, productivity and fulfillment.
More than just getting things done – Ease will help you reclaim your spark even in times of "crazy busy". 
Learn to better organize the burdensome loads with a "brain in mind" approach.
Become more mindful and develop conscious, empowering mindsets that will energize and empower you.
Develop the positivity advantage and become more resilient, creative and resourceful.
Experience more ease and well-being in work and life
Coming soon! It will be available from book vendors across North America.
Stay tuned for more…..
Eileen Chadnick