Further to my last post about my upcoming book, Ease,  I will be announcing the 'come and get it' date real soon. For now, I wanted to share with you some advance praise for Ease.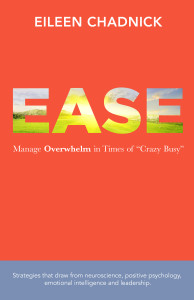 (Cover Design by H2 Marketing Central)
For a first-time author, nothing is scarier than putting 'it' out there. "It" being my book, Ease.  Thankfully, my nerves have been offered a little bit of  'ease' (sorry, couldn't resist) with some stellar advance endorsements from folks I admire so much.  I feel blessed that they took the time to read Ease and am so delighted that they liked it!
Here's what they said:
"Rooted in science, research, and common sense, Ease is a powerful and thoughtful book to help us all manage our frenetic lives. Best of all, it reads like you're in the room, one-on-one, with coaching pro Eileen Chadnick. And I can tell you from personal experience, that's a wonderful place to be."
 –        Terry Fallis, award-winning author of The Best Laid Plans, and co-founder of Thornley Fallis Communications.
"Eileen has done us busy people an enormous service with Ease. It is quite one thing to know what the neuroscience and positive psychology research says about dealing with times of "crazy busy" but quite another to apply the strategies to our own lives.  Eileen bridges both and lays out a smorgasbord of solid ideas that are easy to grasp and to customize to one's own needs.  This deceptively simple yet profoundly informed book will make a difference for me and for others who read it. The positive frame and good writing make me feel better already just from reading it."
 –        Linda J. Page, PhD, President of Adler International and Co-author of Coaching With the Brain in Mind.
"Struggle is strictly overrated!  Sure, you're busy, but are you being EFFECTIVE?  Ease is a practical, grounded book and a treasure chest of do-able exercises that will help you focus, maximize and do what you can do."
–        Kim George, Author, Coaching Into Greatness: 4 Steps to Success in Business and Life, Founder, The Abundance Intelligence Institute® www.AbundanceIntelligence.com
"The science tells us that if we can manage our stress, our sleep and our mood we can boost our capacity to have more impact; work with a greater sense of ease; and do more Great Work. Easy to say, much harder to do. Eileen Chadnick lays out 17 practical tools so you can move from insight to action … and start to experience a real difference."
–        Michael Bungay Stanier, Senior Partner of Box of Crayons and author of Do More Great Work
Stay tuned for more to come!