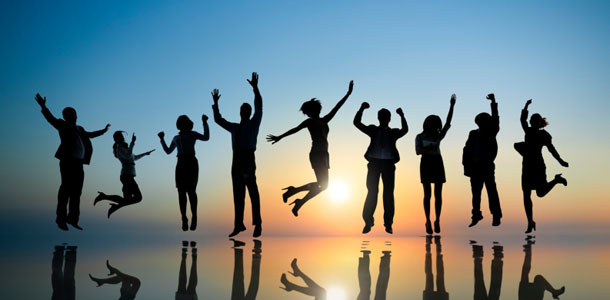 At Big Cheese Coaching, we take wellbeing seriously. It's the foundation of our work and at the core of our mission: To inspire personal, professional and organizational wellbeing.
All three are connected. To be your best at work and in life, you need to pay attention to your 'whole' self both at work and in other facets of your life.  Each impacts the other. Can you have a hearty and thriving organization with a workforce that is struggling? Can you be your best professionally when your personal 'mojo' (another word for wellbeing) is off? When your professional life is suffering, how does this impact you in other parts of your life?
If you are head of an organization or a team (either as leader, HR professional or other), you want your organization to thrive. That means your people need to be the best they can be. They need to work together towards a common vision with shared values and a commitment to bring their best to work every day. They need to be flexible, adaptive and work harder and faster to meet the the accelerating demands. All this and wouldn't it be great if they were happy too?
Reality Check? …. The pace, demands and pressures in today's working world are at an unprecedented level. Attracting, retaining and nurturing talent is at its utmost importance — and yet, it has never been more challenging. Teams change, people move on and dynamics are in constant flux.  How do you ensure your workplace thrives amidst all the chaos of modern day work?
Big Cheese Coaching can help. Whether we are working with individuals, teams or the whole company we never take our eyes off the bigger picture of organizational wellbeing.  Each individual has an impact on others. So whether we are working with a leader to develop their personal and professional skills we always consider the impact they have on others. We coach leaders to be the best they can and to empower and grow others to be the best they can. We don't only provide coaching – we also teach coaching.  Coaching skills matters. Not just for coaches but for anyone who leads (ask us about our 'Coaching Skills for Leaders' training).
We develop emotionally intelligent leaders who not only perform better but can also contribute to a more emotionally intelligent workplace culture. We also know what it takes to create a culture of positivity, optimism, resilience, respect and creativity.
We also have great respect for the role that workplace culture can have in supporting or impeding an organization's propensity to thrive. We believe core values are meant to be much more than a poster on a wall. We can show you how to create a culture that walks the talk of shared values. We can show you how values that permeate performance and metrix can inspire far outlasting and meaningful results than those without a values orientation.
Sometimes we do all this in smallsteps. Perhaps with just a leader or two or by focusing on one department at a time. Microchisms of positivity and good leadership can influence on a wider scale. Other times we may approach this on a larger scale. Ultimately it's up to you. We work with you and in collaboration. Our best work happens in partnership.
Ask us about our award-winning program on employee engagement that made headlines and more importantly saw a great company flourish and thrive with new tools and ways of honouring their highest values and priorities. We helped make that happen.
See our Signature Programs for a few ideas; have a look at our coaching programs and our workshops. Most importantly talk to us and we'll find the right approach for you.
To your organization's wellbeing!