RETREAT News!: From Frazzle To Flow Retreat — At Red Mountain Resort, Utah, St. George (March 14-15*):
UPDATE (April 2013): the retreat was fabulous. If interested in exploring an opportunity to participate in something like this in 2014 for drop me a line so I can gage interest and organize an event for next year. Read on to learn a bit more about this year's retreat.
Having too much to do in work and life seems to be the new normal these days. Time for a retreat to ignite your spark. Join me at the lush, beautiful Red Mountain Resort in Utah where we will have a mix of hiking, learning, wonderful eating all in the quest to rekindle our mojo. If hiking is not your thing – no worries, there's something for everyone at Red Mountain Resort, including an award-winning spa.
I'll be presenting two evening seminars: 1) Tame the Overwhelm Gremlin and 2) Discover the Happiness Advantage. I'll also be hosting a hike and luncheon. Learn more: From Frazzle to Flow…. Hope you see you there!
* And you are free to extend your stay as long as you like – I highly recommend it!
Now a glimpse at what you can experience.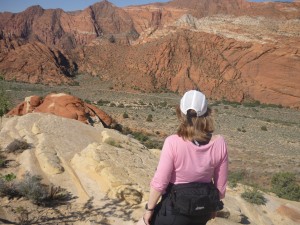 This spectacular view (from my visit there last May) is just a slice of the wonder you can savour. If hiking is not your thing, you can savour this view in gentler ways – enjoy classes, spa services, or just hang out. The view is right there at your feet.
…ahem…just to reinforce that idea that this spectacular view is there for you at your feet (but these were mine…just chillin out after an afternoon at the Red Mountain Resort Spa…right on site)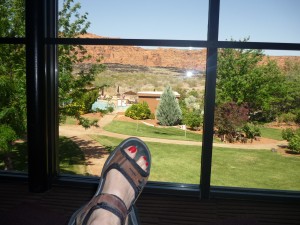 Let me know if I will see you there….The more the merrier!